EPA to Crack Down on Unnecessary Methane Pollution by Oil and Gas Industry…as Study Shows Leaks are Way Worse than Previously Known
Thursday, August 20, 2015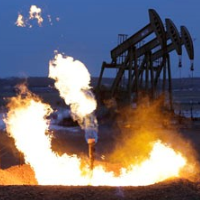 Natural gas, containing methane, is flared off at oil drilling site (photo: Eric Gay, AP)
Determined to reduce the nation's contribution to global warming, the U.S. Environmental Protection Agency (EPA) has proposed regulations that would require oil and gas companies to reduce emissions of methane, a powerful greenhouse gas found to be leaking from facilities at higher rates than previously believed.
The new rules are intended to cut methane emissions by 20% to 30%, which would go a long way toward meeting the Obama administration's goal of reducing overall methane emissions from U.S. sources by 40% to 45% from 2012 levels by 2025.
The EPA estimates the regulations, which would require drilling companies to stop leaks and capture lost gas even at oil wells, would cost the industry up to $420 million to implement by 2025. Oil and gas producers, along with Republican members of Congress, criticized the plan, saying it's too expensive and will cost jobs. But since Chevron Texaco, ExxonMobil and Royal Dutch Shell made a combined $61 billion in 2014, the oil companies can probably afford it.
Environmentalists say the plan doesn't go far enough as it applies primarily to new wells, not most existing facilities.
Administration officials want to target methane because it is 25 times more powerful than carbon dioxide in trapping heat, though it doesn't last as long in the atmosphere as CO2, according to The New York Times.
The announcement by EPA comes at the same time that a new study shows oil and gas operations are leaking more methane than the industry has reported. Researchers at Colorado State University say gas gathering and processing facilities let out 2.4 million metric tons of methane annually, and emit 100 billion cubic feet of natural gas—eight times more than the EPA estimated.
-Noel Brinkerhoff
To Learn More:
EPA Announces New Rules to Cut Methane Emissions (by Gardiner Harris and Coral Davenport, New York Times)
Methane Is Leaking From Natural Gas Processing Plants At Much Higher Rates Than Reported (by Samantha Page, ThinkProgress)
Methane Emissions from United States Natural Gas Gathering and Processing (Environmental Science & Technology)
Methane Leaks May be Far Worse than Official Estimates, Altering Climate Change Predictions (by Noel Brinkerhoff, AllGov)
U.S. Methane Emissions May be 50% Higher than EPA Estimates (by Noel Brinkerhoff and Danny Biederman, AllGov)