Energy Dept. Fines Two Nuclear Weapons Labs for Misplacing Classified Materials and Publically Sharing Weapons Designs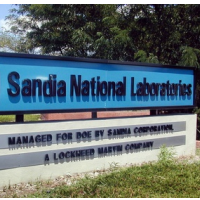 (photo: Sandia National Laboratories)
Contractors running two U.S. nuclear weapons labs will be fined for allowing information on the construction of weapons to be available in the public domain and losing track of nuclear materials in the wake of an Energy Department audit of the facilities.
At Los Alamos National Laboratories, officials couldn't account for a piece of classified "matter" that had been scheduled to be shipped to a nuclear disposal site in Nevada. The material, last logged in at Los Alamos in 2007, is assumed to have been shipped out, but officials can't confirm that. It wasn't noticed for five years that the material wasn't accounted for.
"The fact that [Los Alamos National Security] didn't realize this material was missing for five years, and the unreliable nature of their review of it when they did learn about it is very disturbing," Jay Coghlan, executive director of Nuclear Watch New Mexico, a nonprofit watchdog organization that tracks nuclear labs in that state, told The Center for Public Integrity (CPI). "It's particularly troubling because the investigators' report says it could have had a high level of damage to national security."
Los Alamos National Security, the company that runs the labs on a $2.2 billion annual contract, was fined $247,500 for failing to secure the classified "matter," and an additional $150,000 for an unrelated employee safety violation.
At the Sandia National Laboratory, officials had included classified nuclear weapon design information on a server able to be accessed by the public for years. They even gave PowerPoint demonstrations from 2003 to 2011 that exposed the information to outside groups and handed out computer disks with the demo.
Investigators found 47 instances of the presentation available on Sandia servers that were open to the public. Sandia Corp., the lab's Lockheed-Martin-owned managing contractor, was fined $577,500 for the breach. It shouldn't be difficult to pay, since the company received $26 million in bonuses from the government last year.
"Sandia continues to experience a significant number of security incidents, topping out at 190 incidents of security concern in FY2014," the administration's last annual performance evaluation of Sandia reported, according to CPI.
-Steve Straehley
To Learn More:
Nuclear Weapons Labs Hit With Sizable Fines for New Security Violations (by Patrick Malone, Center for Public Integrity)
Secrets Got Loose at Nuclear Weapons Laboratory, an Auditor Says (by Douglas Birch, Center for Public Integrity)