Energy Company Told Employees Toxic Coal Waste was Safe to Eat
Wednesday, September 10, 2014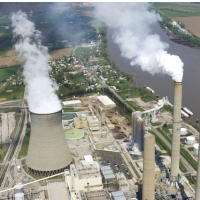 Gavin power plant in Cheshire, Ohio (AP Photo)
A group of energy company workers and their families in Ohio are suing their employer and others over exposure to coal waste, about which they were told was safe enough to consume.
The lawsuit involving 77 plaintiffs—39 workers and their family members—targets American Electric Power Company, Inc., American Electric Power Service Corporation, Ohio Power Company, and a landfill site operator.
The employees say they were exposed to toxic coal waste from the Gavin Plant Residual Waste Landfill in Cheshire in Gallia County. Further, the defendants allegedly assured their employees that the waste was harmless and even safe enough to eat—despite the presence of arsenic, beryllium, cadmium, cobalt, lead, and thalium, according to the lawsuit. These waste products have been linked to such health problems as cancer, heart failure, skin lesions and respiratory complications, states the suit.
The plaintiffs claim that when they asked landfill site superintendent Doug Workman about potential dangers of working with coal ash, he responded "by sticking his finger into the coal waste and then placing his fly-ash covered finger into his own mouth, then misrepresented to the working direct claim plaintiffs that coal waste was 'safe enough to eat.'"
The lawsuit also states that the plaintiffs were told repeatedly that the ash was merely a mixture of "water and lime," made up of "such low levels of arsenic, it made no difference to their health or safety and that the lime neutralizes the arsenic."
Prosecuting attorney Dave Duffield told the Chris Dickerson of the West Virginia Record that his firm is also representing the families of the workers, "who are now starting to deal with the consequences of this toxic contact themselves due to exposure in their own home by the dangerous waste being brought home on their relatives' work clothes."
Workers at the facility were not provided with protective gear, which may have caused the deaths of eight people, attorneys representing the plaintiffs added. Others suffered from a variety of illnesses due to the chemicals in the coal waste.
Gavin Landfill "collects, shovels, hauls, dumps, spreads and transports 2.6 million cubic yards of coal combustion waste byproducts produced at the plant each year," according to the West Virginia State Journal.
Coal ash, which is reportedly the second largest form of waste produced in the U.S., is not classified as a hazardous waste by the Environmental Protection Agency. However, the agency this year agreed for the first time to regulate its disposal after environmentalists and others forced it, through a lawsuit, to finally take action.
- Danny Biederman, Noel Brinkerhoff
To Learn More:
AEP Named in 77 Exposure Lawsuits (by Chris Dickerson, West Virginia Record)
Ohio Workers Suing AEP over Coal Waste (by Linda Harris, Charleston State Journal)
Workers at Coal Waste Landfill Told That Coal Ash Is 'Safe Enough To Eat,' Lawsuit Says (by Emily Atkin, Think Progress)
EPA Finally Agrees to Regulate Coal Ash (by Noel Brinkerhoff, AllGov)