Edison and Mitsubishi Implicated in Radioactive Leak at Nuclear Power Plant
Saturday, February 09, 2013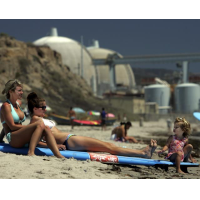 San Onofre Nuclear Power Generating Station (photo: Orange County Register)
At the heart of arguments by Southern California Edison (SCE) that it is not responsible for the shutdown of the San Onofre nuclear power plant in California a year ago is the contention that the facility's problems were unknowable and unpredictable.
California Senator Barbara Boxer and Massachusetts Representative Ed Markey, both Democrtas, beg to disagree and have written a letter to the Nuclear Regulatory Commission (NRC) asking that it investigate new information from a leaked report which indicates plant operator Edison and manufacturer Mitsubishi Heavy Industries (MHI) early on identified problems in replacement steam generators but did nothing about them.
Two reactors at San Onofre have been closed since January 2012, when a leak of radioactive steam was discovered. Subsequent testing found hundreds of eroded steam tubes, damaged by vibration. Edison blamed Mitsubishi, which blamed computer problems and bad math for the misdesigned equipment.
But they both agreed on one rhetorical point: Who could have known the vibrations would cause prematurely eroded tubes?
Boxer and Markey say the answer is Edison and Mitsubishi. The lawmakers cited a 2012 Mitsubishi document, entitled "Root Cause Analysis Report for Tube Wear Identified in the Unit 2 and Unit 3 Steam Generators of San Onofre Generating Station," which, they maintain, shows the two companies knew about the problems and "rejected enhanced safety modifications" to avoid "triggering a more rigorous license amendment and safety review process."
"The Report also indicates that SCE's and MHI's decision to reject additional safety modifications contributed to the faulty steam generators and the shutdown of reactor Units 2 and 3," according to the Boxer-Markey letter.
The companies had skirted a full-blown NRC plant license review when they installed new steam generators and thousands of tubes by arguing that it was a straightforward upgrade of existing equipment with no known complications.
Boxer and Markey want the NRC to investigate whether the companies failed to make the needed fixes in order to avoid triggering a license review.
The future of the nuclear facility has been in doubt for a year. Edison said it has made progress in fixing the problems and wants to crank up the plant at 70% power to see if anything shakes loose. Critics want the plant shut down for good. Edison wants taxpayers to pick up the tab for tending to San Onofre and compensating for lost energy production. Taxpayers want Edison and its stockholders to bear the cost.
Around 8.7 million people live within 50 miles of the San Onofre plant, located between San Diego and Los Angeles.
-Ken Broder
To Learn More:
Report: Edison Knew of Steam-Generator Flaws (by Pat Brennan, Orange County Register)
Barbara Boxer on San Onofre: Nuclear Power Plant Should be Investigated (by Michael R. Blood, Associated Press)
Edison Failed to Fix Problems with San Onofre System, Boxer Charges (by Abby Sewell, Los Angeles Times)
Letter to the Nuclear Regulatory Commission (by Senator Barbara Boxer and Representative Ed Markey)
Regulator Wary of Edison Shortcut for Testing Crippled San Onofre Nuclear Plant (by Ken Broder, AllGov)