DuPont Insecticide Plant where 4 Workers Died hadn't been Inspected in 7 Years
Wednesday, November 19, 2014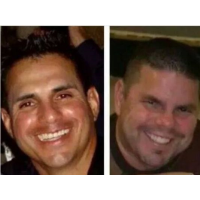 Robert and Gilbert Tisnado (photo: Tisnado family)
Four workers at a DuPont chemical plant in Texas died last weekend following a chemical leak. The industrial facility in La Porte hadn't undergone federal safety inspections since 2007.
The discharge of a poisonous gas, methyl mercaptan (pdf)—which is used in the production of the company's popular insecticide, Lannate—killed the four employees and hospitalized a fifth. Two of those killed were brothers, Robert and Gilbert Tisnado. Gilbert's widow, Michelle, has filed a million-dollar wrongful death suit against DuPont and the facility's plant manager, Randall Clements.
DuPont released a statement saying that the workers had responded to a reported leak in a valve. It was later determined that the faulty valve had released about 100 pounds of the deadly gas into the air throughout the plant.
Inspectors from the Occupational Safety and Health Administration hadn't checked the plant in seven years. At that time two serious violations for safe management of highly hazardous chemicals were issued. But the total in fines amounted to only $3,400.
DuPont was hit with tougher penalties by the Environmental Protection Agency (EPA) after the agency found violations of hazardous waste management and air emissions standards. EPA fined the company $117,375, according to The Wall Street Journal.
The 600-acre plant, which manufactures pesticides and plastics, also has been cited by Texas regulators for repeatedly breaking state laws involving safety inspections, preventing pollution leaks and other concerns.
A team from the Chemical Safety Board was dispatched to the site to investigate the deaths in the recent incident. The agency previously investigated accidents at other DuPont plants, including two that were fatal.
-Noel Brinkerhoff, Danny Biederman
To Learn More:
Chemical Plant Where 4 Workers Died Hadn't Had Workplace Safety Inspection In 7 Years (by Bryce Covert, Think Progress)
Investigators to Probe DuPont's Deadly Texas Chemical Leak (by Daniel Gilbert, Wall Street Journal)
Plant Where Workers Died Reported Recent Violations (by Neena Satija, Texas Tribune)
Widow Sues DuPont for Fatal Gas Leak (by Cameron Langford, Courthouse News Service)