Drug Companies Push Bill to Deemphasize Random Trials in Approving New Drugs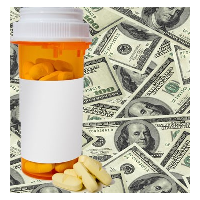 (photo illustration: Steve Straehley, AllGov)
A House proposal would force the Food and Drug Administration (FDA) to rely less on randomized controlled trials and more on "clinical experience" when approving drugs.
Clinical experience, including observational study and anecdotal information from patients taking the drug, has been used as part of the drug approval process, but more in a secondary capacity as it's not deemed rigorous enough scientifically to be used as a primary source. Some are concerned that the decreased reliance on controlled trials called for in the 21st Century Cures Act (pdf) would result in less thorough testing of medications.
"Clinical experience is something that should be considered as additional information, but absolutely never take the place of scientific data," Diana Zuckerman, head of the nonprofit National Center for Health Research, told The Wall Street Journal. "By urging FDA to get away from randomized clinical trials, drug makers may have more power to urge the FDA to consider data that is favorable to their product."
Thomas Moore, senior scientist at the Institute for Safe Medicine Practices, said: "We don't know what will happen. Will it open the door to a wholesale reworking of clinical trial requirements? They are pushing the FDA to consider types of evidence that's not been previously regarded as reliable enough."
Dr. John Powers, the former lead medical officer for antimicrobial development and resistance issues at the FDA and a member of the National Physicians Alliance's FDA task force, said there's too much variance between human beings to rely on clinical experience.
"The number of ways patients can be different from each other that can influence patient-centered outcomes independent of treatment is innumerable," Powers told OpenSecrets, adding that with clinical experience, one "can't take into account all complexities that happen in the human body."
The bill has been pushed by the pharmaceutical industry and its original sponsors, Fred Upton (R-Michigan); Joe Pitts (R-Pennsylvania); Frank Pallone (D-New Jersey); Diana DeGette (D-Colorado); and Gene Green (D-Texas), have all gotten tens of thousands of dollars in contributions from Big Pharma.
-Noel Brinkerhoff, Steve Straehley
To Learn More:
PhRMA Companies Push Hard on House Bill To Ease Testing of New Drugs (by Alex Lazar, OpenSecrets.org)
Will the 21st Century Cures Bill Lower Standards for Some Drug Approvals? (by Ed Silverman, Wall Street Journal)
Studies Find No Consistency in FDA Drug Approval Methods (by Noel Brinkerhoff, AllGov)
A Third of All U.S. Clinical Drug Trial Results Remain Unpublished after 5 Years (by Noel Brinkerhoff, AllGov)