Drug Companies and Doctors Boost Profits Pitching Attention Deficit Disorder
Tuesday, December 17, 2013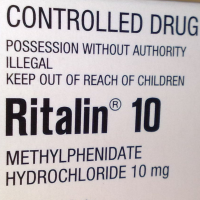 (photo: Wikipedia)
With the help of physicians, pharmaceutical makers have made billions of dollars peddling medicines to treat attention deficit disorder, leading some experts, and even one pharmaceutical executive, to declare that the marketing push has gone too far.
Last year, sales of stimulant medication intended to treat attention deficit hyperactivity disorder (ADHD) reached $9 billion—a fivefold increase from a decade ago.
Today, 15% of high school students have been diagnosed with ADHD, with about 3.5 million of them on some sort of drug marketed to treat the disorder.
Dr. Keith Conners, who has spent decades trying to help children with ADHD, has questioned the increasing rates of diagnosis, calling them "a national disaster of dangerous proportions."
"The numbers make it look like an epidemic. Well, it's not. It's preposterous," Conners, a psychologist and professor emeritus at Duke University, told The New York Times. "This is a concoction to justify the giving out of medication at unprecedented and unjustifiable levels."
The drug industry has worked for two decades to publicize ADHD and promote its remedies to doctors, educators and parents. As a result, the disorder is now the second most frequent long-term diagnosis made in children, just behind asthma.
Drugs such as Ritalin, Adderall, Concerta, Focalin, Vyvanse, Intuniv and Strattera have been promoted to help children, but along the way, the Food and Drug Administration has cited every major ADHD drug for false and misleading advertising since 2000.
Doctors also have been criticized for taking money from drug companies to publish research and deliver presentations that their encourage colleagues to prescribe these drugs, which possess significant side effects and are regulated in the same class as morphine and oxycodone because of their potential for abuse and addiction.
Now, companies want to market the medications to adults to further expand revenue-making opportunities.
Roger Griggs, the pharmaceutical executive who introduced Adderall in 1994, objects to marketing stimulants to the general public because of the risks involved. He called the drugs "nuclear bombs" that should rarely be prescribed and carefully monitored by a treating physician, according to the Times.
-Noel Brinkerhoff
To Learn More:
The Selling of Attention Deficit Disorder (by Alan Schwarz, New York Times)
Latest Condition Invented by Drug Companies…Low Testosterone (by Matt Bewig, AllGov)
Drug Companies Increase Profits by Creating Fear of Diseases (and Even Diseases) (by David Wallechinsky, AllGov)