Dozens of Sexual Harassment Cases Thrown Out Because of Supreme Court's Narrow Definition of "Supervisor"
Monday, December 01, 2014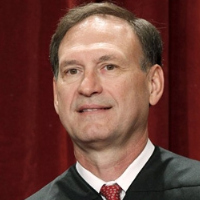 Justice Samuel Alito
It turns out that the person who controls your schedule and has the right to make your job—and life—difficult isn't really your supervisor. Last year's 5-4 Vance v. Ball State decision (pdf) by the Supreme Court significantly narrowed the definition of what a supervisor is and in doing so made it easier for companies to get away with having employees who harass others.
An analysis by the National Women's Law Center conducted for ThinkProgress showed that since Vance became the law of the land, 43 sexual harassment cases have been thrown out by lower court judges who relied on Justice Samuel Alito's definition of what a supervisor is. According to the opinion written by Alito, "an employee is a "supervisor" for purposes of vicarious liability under Title VII if he or she is empowered by the employer to take tangible employment actions against the victim." Courts have interpreted that to mean hire, fire, promote or change compensation.
Alito also alluded to the modern business cost-saving phenomenon of workers given supervisory tasks to perform, but not the titles or money to go along with them. "Particularly in modern organizations that have abandoned a highly hierarchical management structure, it is common for employees to have overlapping authority with respect to the assignment of work tasks," he wrote.
But those people still wield power over fellow workers, even if it's not reflected in a job title. "Things like schedules are significant changes for workers," Liz Watson, senior counsel and director of workplace justice for women at the National Women's Law Center, told ThinkProgress, "because they have everything to do with how much money someone earns."
One case highlighted by ThinkProgress involved a Safeway employee, Jose Lopez, who sexually harassed a 17-year-old female clerk at the store in Scottsdale, Arizona. The victim, and her mother who also worked at the store, resigned and sued Safeway. But the court held that under the Vance standard, Lopez wasn't a supervisor even though he controlled when the victim had breaks and could leave for the day. The case was eventually settled via mediation after the plaintiff filed an appeal.
In addition to the 43 cases where a sexual harassment case was dismissed, there have been many more that haven't been filed because of Vance. There are solutions available, however. One would be for Congress to enact legislation that would define who is a supervisor. The Fair Employment Protection Act would do that, but was buried the day it was filed last March and has almost no chance of passage. The other would be for the Equal Employment Opportunity Commission (EEOC) to clarify who is and is not a supervisor. "The EEOC has a very robust amicus program, so this is actually something we've been monitoring for an opportunity to weigh in," EEOC general counsel David Lopez told ThinkProgress. "We're waiting for the right case."
-Steve Straehley
To Learn More:
43 Sexual Harassment Cases That Were Thrown Out Because Of One Supreme Court Decision (by Bruce Covert, ThinkProgress)
Vance v. Ball State University Summary (Legal Information Institute)
5-4 Supreme Court Votes Give 2 more Victories to Corporate Leaders over Employees (by Noel Brinkerhoff, AllGov)