Does Epidemic of Boxing-Related Brain Injuries among Military Academy Cadets Undermine Combat Readiness?
Thursday, October 01, 2015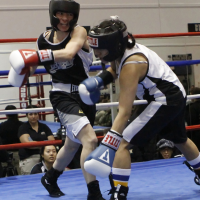 West Point cadets face off in boxing ring (photo: U.S. Military Academy)
Instead of making better soldiers, airmen and sailors, the boxing classes required at U.S. military academies might be responsible for making the leaders of U.S. armed forces less effective.
The New York Times has discovered that many cadets endure concussions as a result of punching each other in the ring. Boxing is responsible for about 20% of the concussions suffered by West Point cadets and a quarter of those at the Air Force Academy, according to the Times' Dave Philipps. It is also the source of a quarter of concussions at the Naval Academy—more than twice the total from football there.
West Point has documented over the past three years 97 concussions from boxing, more than from any other sport, possibly because boxing is mandatory for male cadets there. The Air Force Academy, which requires men to box, reported 72, and the Naval Academy, where the class is mandatory for men and women, 29.
"No brain trauma is good brain trauma — even if there are not diagnosable concussions, there can still be lasting damage," Dr. Robert Cantu of Boston University, a leading neurologist specializing in concussions who has advised the Army and major league sports, told the Times. "Maybe you could justify it if there is some crucial lifesaving skill that can't be taught in any other way. But short of that, it's absolutely stupid."
Cadets who suffer concussions are forced to rest for at least two days, with no sports, schoolwork or military training. That can put them behind in their studies. And if they don't complete the boxing class because of concussion or other reason, cadets are forced to repeat it.
"There is an argument that whatever benefit a cadet gains from boxing, the cost of missing studies, of missing training, of becoming more vulnerable to injury down range, are detrimental to military readiness," Brenda Sue Fulton, a West Point graduate who is the chairwoman of the academy's civilian advisory committee, known as the Board of Visitors, told the Times. "It's possible by trying to prepare our cadets, we are making them less ready."
Lieutenant Colonel Nicholas Gist, director of physical education at West Point, told the Times the academy has required boxing for more than a century because "we want to expose them to fear and stress and teach them a confidence to respond."
"We'd rather teach that at the academy than in Iraq or Afghanistan," Gist added.
The Army tried to delay the Times' story on concussions by waiting months to release concussion data to the newspaper while officials "discussed ways to draw attention away from the issue, an Army document shows," Philipps wrote. The Army's surgeon general, Lt. Gen. Patricia D. Horoho, recommended to West Point Superintendent Lt. Gen. Robert L. Caslen that he attempt to get another newspaper to print a more favorable article about the issue before the Army released the data. "Timing is everything with this stuff," Horoho said, according to the memo.
-Noel Brinkerhoff, Steve Straehley
To Learn More:
Despite Concussions, Boxing Is Still Required for Military Cadets (by Dave Philipps, New York Times)
Generals Sought More Positive Coverage, Document Shows (by Dave Philipps, New York Times)
College Wins Grant for Work on Preventing Military Injuries (by Bruce Schreiner, Associated Press)
Summary of a Meeting at the Pentagon (New York Times)