Despite Supreme Court Ruling, Texas Still Executes Mentally Disabled
Tuesday, January 12, 2010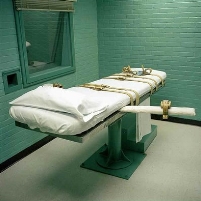 Execution chamber in Texas
A U.S. Supreme Court ban on executions of mentally-retarded murderers has not stopped Texas from keeping such convicts on Death Row. In Atkins v. Virginia, the high court in 2002 left it to states to decide their own definition of retarded, creating a loophole for capital punishment supporters to utilize. But Texas has gone beyond using the loophole and relied on a psychologist who has consistently diagnosed retarded inmates as mentally fit and thus eligible for execution.
One such example is Daniel Plata, convicted of killing a convenience store clerk in 1995. A neuropsychologist hired by Plata's defense attorney found him to have an IQ of 65. But George Denkowski, a psychologist regularly hired by prosecutors, decided that Plata was "not considered to be mentally retarded for Atkins purposes."
Since the Supreme Court ruling in 2002, Texas has altered the death penalty convictions of just 13 mentally-retarded men. Nationally, about 40% of Death Row appeals based on the Atkins decision have been successful. In Texas, the rate is 28%.
-Noel Brinkerhoff
Atkins vs. Virginia
(U.S. Supreme Court