Despite Fire Threat to Los Alamos Lab, Plans Proceed for Plutonium Bomb Factory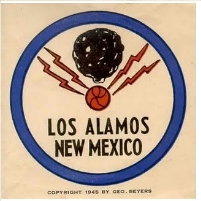 The largest fire in New Mexico history finally receded from the edges of the Los Alamos National Laboratory, but it crept close enough to spark concern among local residents and anti-nuclear activists opposed to the lab's proposed plutonium facility.
A federal judge, however, dismissed the lawsuit on grounds that Los Alamos was conducting a "supplemental" impact statement to determine the effects of the enlarged factory on the environment. The new facility is expected to be completed by 2023 and add 32,000 square feet to the lab overall.
That's a head scratcher for Jay Coghlan, executive director of Nuclear Watch New Mexico. "We should be cleaning up, not building up new production plants that will produce yet more radioactive and toxic wastes."
Located on the sprawling grounds of the lab are 20,000 drums of plutonium waste. Locals have pointed out that had the 93,000-acre blaze moved eastward, the entire region could have been endangered by the release of the highly toxic material.
Fire isn't the only concern of people who monitor activities at the national lab. The site sits 5 miles from the Jemez volcanic field and about 5 miles from Valles caldera, one of the three largest, youngest, and potentially active calderas in the United States. The Pajarito Fault System, an active tectonic feature, lies just west of Los Alamos and has major sub-faults crossing beneath lab facilities.
New Mexico is no stranger to earthquakes and a seismic network run by the Los Alamos lab has detected 2,500 quakes in north-central New Mexico since its inception in 1973. The network used to consist of 20 tracking stations, but in recent years it has been reduced to seven.
-Noel Brinkerhoff, Ken Broder