Dept. of Transportation Issues First Fine against Airline for Tarmac Delay
Wednesday, November 16, 2011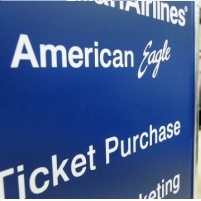 A subsidiary of American Airlines this week became the first in the industry to be penalized by the federal government for making passengers endure lengthy delays on an airport tarmac.
The
U.S. Department of Transportation
fined American Eagle $900,000 for keeping 608 passengers on board 15 different flights for more than three hours at Chicago O'Hare International Airport in May.
The punishment was the first since the government imposed a limit on tarmac delays more than a year and a half ago. A series of incidents that stranded passengers onboard planes for 10 hours or more prompted Washington to act.
Airlines now are required to allow passengers to get off planes if they are stuck on board for more than three hours.
American Eagle actually got off easy—it could have been fined $16.7 million, or $27,500 for each passenger, under the law.
One airline executive, Jeffrey Smisek of Continental Airlines, called the new rule "stupid." Other industry leaders warned that the penalty may prompt carriers to cancel more flights in order to avoid being penalized themselves.
-Noel Brinkerhoff
Dept. of Transportation Refuses to Delay (Some) Passenger Rights Rules (by Noel Brinkerhoff, AllGov)