Decades-Long Trend of Rising Life Expectancy in U.S. Undergoes Mysterious Reversal
Saturday, December 10, 2016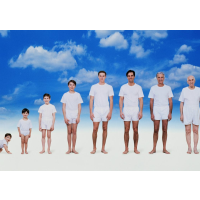 (photo: Michel Tcherevkoff Stone, Getty Images)
By Katie Rogers, New York Times
U.S. life expectancy is in decline for the first time since 1993, when HIV-related deaths were at their peak. But this time, researchers can't identify a single problem driving the drop, and are instead pointing to a number of factors, from heart disease to suicides, that have caused a greater number of deaths.
A study (pdf) on mortality rates released Thursday by the National Center for Health Statistics showed that Americans could expect to live for 78.8 years in 2015, a decrease of 0.1 from the year before. The overall death rate increased 1.2 percent — that's about 86,212 more deaths than those recorded in 2014.
Dr. Peter Muennig, a professor of health policy and management at Columbia University's Mailman School of Public Health, said in an interview that the decline was a "uniquely American phenomenon" in comparison with other developed countries, such as Japan or Sweden.
"A 0.1 decrease is huge," Muennig said. "Life expectancy increases, and that's very consistent and predictable, so to see it decrease, that's very alarming."
— What's causing the decline?
For researchers, the numbers reflect a culmination of problems. Eight of the top 10 causes of death showed an increase in death rates, including those from heart disease, diabetes and kidney disease. Deaths from Alzheimer's disease rose 15.7 percent, unintentional injuries rose 6.7 percent and suicide rose 2.3 percent.
The infant mortality rate, often the marker researchers use to gauge the health of a population, rose slightly, but Dr. Jiaquan Xu, one of the authors of the study, said that the rise was not considered significant.
Muennig said that popular theories for the cause of the decline, including an increase in obesity rates and an opiod epidemic, fail to explain a problem that feels broader.
"If you actually dissect the data, neither of those arguments hold," he said. "This report slams it home that this is really a mystery."
— Is there any positive news?
Xu said that the study's lone bright spot showed a decline in deaths from cancer, by 1.7 percent.
"That's the only part that's good news," he said.
— How does race play a factor in life span?
The study is further confirmation of a decline in health in different racial populations. Death rates among non-Hispanic black males rose 0.9, and 1 percent among non-Hispanic white males. Rates for non-Hispanic white females rose 1.6 percent.
Rates for non-Hispanic black females, Hispanic males and Hispanic females held steady from 2014 to 2015.
Muennig said that a decline in the health of working class whites was a major contributor to the latest survey results. Life expectancy for whites has stagnated or dipped in recent years, fueled by vulnerability to drug and alcohol abuse, suicide and economic distress.
"It's not happening to black people," Muennig said. "That group used to have a huge and growing disparity with whites, but that gap has radically narrowed."
In 2014, the life expectancy gap between black and white people closed to 3.4 years, the smallest on record.
— What about income?
Thursday's survey did not break people down by income or education level, but past research has shown that as the gap between the rich and poor in America widens, people of different income levels can expect to live for different lengths of time.
In February, researchers at the Brookings Institution analyzed life expectancies for men who were among the top 10 percent of earners, and those who were among the bottom 10 percent. For men born in 1950, life expectancy for poorer men was 14 years shorter than for those among the rich.
Muennig said that researchers suspect that the strain of income inequality in the United States — and the stress that this causes — could be a major contributing factor to the uptick, but it has been hard to prove beyond one thread of research that studies how earned-income tax credits can help improve the health of people with low incomes.
— Does sex play a factor?
Yes. According to the data, life expectancy for females remains consistently higher than it does for males. In 2015, the difference in life expectancy between females and males increased to 4.9 years in 2015, up from 4.8 years in 2014.
— What do these numbers mean for the future?
Xu said in an interview that the decline doesn't necessarily show a trend, but that the numbers are cause for concern.
"If a year from now if this situation continues," Xu said, "it's definitely a problem for public health."
To Learn More:
Mortality in the United States, 2015 (by Jiaquan Xu, M.D., Sherry L. Murphy, B.S., Kenneth D. Kochanek, M.A., and Elizabeth Arias, Ph.D., National Center for Health Statistics) (pdf)
Increases in Drug Overdoses, Alcoholism and Suicide Cutting Short Lives of White Americans (by Mike Stobbe, Associated Press)
Wealthiest Americans Outlive Poorest by at Least 10 Years (by Lindsey Tanner, Associated Press)
More Scientists, More Money, More New Drugs…but Little Progress in Life Expectancy (by Noel Brinkerhoff, AllGov)
Life Expectancy Declines for White High School Dropouts (by Noel Brinkerhoff and David Wallechinsky, AllGov)
White Women in U.S. Live 10 Years Longer than Black Men (by David Wallechinsky, AllGov)