Crime Labs Still Unregulated despite Scandals
Wednesday, January 08, 2014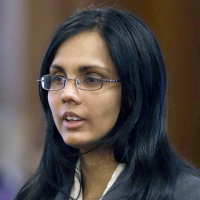 Annie Dookhan (photo: Steven Senne, AP)
There have been a dozen scandals involving crime labs across the United States in just the past two years, but Congress has yet to take action to stop this problem that has resulted in hundreds of convicted criminals going free.
In January 2013, the New York City medical examiner's office revealed that a lab technician mishandled DNA evidence affecting 800 rape cases that occurred over a decade, forcing a full review and the resignation of the lab worker.
At the Hinton Drug Lab in Massachusetts, a lab chemist was caught lying about the test results for tens of thousands of criminal cases, leading to at least 300 prisoners being released.
The chemist, Annie Dookhan, may have even lacked the credentials for employment, according to defense attorney Todd Pomerleau, who represents about two dozen people convicted based on Dookhan's tests.
"She's testifying under oath apparently that she had a master's degree, and the Commonwealth couldn't even confirm whether she went to the school?" Pomerleau told National Public Radio (NPR). "I require my interns to show me a transcript, and apparently the lab had different protocols in place for employment."
These two scandals and others have drawn attention to the fact that no uniform standards or regulations for forensic labs exist in the United States.
Labs are accredited, but by only one organization: the American Society of Crime Laboratory Directors/Laboratory Accreditation Board (ASCLD/LAB).
Accreditation is good for five years, and is supposed to include yearly, planned inspections. The ASCLD/LAB's chief operations officer, John Neuner, told NPR that no lab has ever lost its accreditation.
And yet at least 12 controversies surfaced during 2012-2013 involving forensic facilities. In the case of the Hinton Drug Lab, the facility was not accredited.
One forensic consultant, Brent Turvey, has argued that accreditation may not have helped the Massachusetts situation, and perhaps even made it worse.
"In the Hinton Lab, if they were accredited, the incentive to commit the kind of fraud that Annie Dookhan was committing would have been higher, because the issue would have been maintaining accreditation," Turvey told NPR. "In fact, the majority of labs where forensic fraud [is] exposed, the majority of them are ASCLD/LAB accredited."
Forensic lab scandals have also occurred in St. Paul, Minnesota; Nassau County, New York; North Carolina, West Virginia and Oklahoma City.
Congress may address the problem this year, but it is unclear whether any legislation will be adopted to impose more government oversight for crime labs.
-Noel Brinkerhoff
To Learn More:
Despite Scandals, Nation's Crime Labs Have Seen Little Change (by Deborah Becker, National Public Radio)
Crime Labs under the Microscope after a String of Shoddy, Suspect and Fraudulent Results (by Mark Hansen, ABA Journal)