Court Reversal Allows North Carolina to Approve Anti-Abortion License Plates, Deny Pro-Choice Plates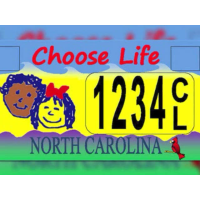 By Dan McCue, Courthouse News Service
(CN) - North Carolina can offer drivers who oppose abortion rights a "Choose Life" license plate without offering a plate with an opposing message, a divided Fourth Circuit ruled (pdf).
The appeals court previously ruled against issuance of the "Choose Life" plate, finding it unconstitutional to issue one while rejecting a request that it sell an abortion rights-themed plate.
However, the state appealed that ruling to the U.S. Supreme Court, which in June 2015, instructed the Fourth Circuit to reconsider its position in light of a ruling in a Texas case, Walker v. Texas Division, Sons of Confederate Veterans (pdf), in which the high court said the Lone Star State could reject a proposal for plates featuring a Confederate battle flag.
On Thursday, a three-judge panel of the appeal court split 2-1 over the issue.
"We now conclude that specialty license plates issued under North Carolina's program amount to government speech and that North Carolina is therefore free to reject license plate designs that convey messages with which it disagrees," Chief U.S. Circuit Judge William Traxler wrote for the majority.
In his dissent, U.S. Circuit Judge James Wynn said his fellow judges misread the implications of the Supreme Court's ruling in the Texas case. Wynn maintains that messages on license plates constitute both both government and private speech, and the Texas ruling did nothing to change that.
"A person who sees a North Carolina 'I'd Rather Be Shaggin' specialty plate during Monday morning rush hour surely does not routinely and reasonably believe that such a plate embodies the State of North Carolina's credo," Wynn wrote.
"Nor is it likely that a North Carolina Libertarian who applies for a 'Don't Tread On Me' specialty plate is motivated by a desire to convey to the public the government's seal of approval," he continued.
"Insisting otherwise is tantamount to 'insisting that a mule must be either a horse or a donkey," Wynn said. "I refuse to believe ... that the Supreme Court meant to force us to choose that the mule in this case is either a horse or a donkey."
He called North Carolina's decision to offer an anti-abortion plate but not a pro-choice plate, "viewpoint discrimination."
After the ruling was announced, the American Civil Liberties Union of North Carolina released a statement expressing disappointment that "North Carolina can now deny drivers on one side of this contentious issue an equal ability to express their views.
"Regardless of the court's ruling, the General Assembly should finally do the right thing and allow citizens on both sides of this controversial issue to purchase specialty plates supporting their views," the statement said.
To Learn More:
American Civil Liberties Union of North Carolina, et al, v. Nicholas J. Tennyson, et al (U.S. Court of Appeals for the Fourth Circuit) (pdf)
Judge Rules North Carolina License Plates Unconstitutional (by Noel Brinkerhoff and David Wallechinsky, AllGov)