Congress Avoids Obama's Call for a Resolution of War against ISIS
Wednesday, August 26, 2015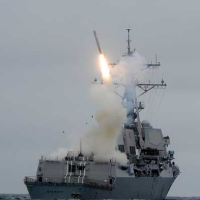 U.S. missile launch against ISIS target in Syria (photo: Carmichael Yepez, U.S. Navy)
The U.S. has been at war with ISIS for a year, but there still has been no official authorization for the war.
Don't blame President Barack Obama for this one. Presidents often have dodged asking Congress to sanction U.S. military operations against a foreign enemy, but that's not the case this time. Obama submitted to Capitol Hill "a complex draft resolution that authorizes the president to use force against the Islamic State," according to Garrett Epps at The Atlantic.
Some Republicans in Congress, however, won't touch the authorization—not because it goes too far and could potentially draw the U.S. into a protracted conflict, but because it doesn't go far enough. Obama's request specifies that the use of U.S. ground troops is forbidden, and it puts a three-year limit on the authorization. Republican lawmakers would prefer "something far more open ended and sweeping," Epps wrote.
GOP presidential hopeful Senator Marco Rubio of Florida wants a simple authorization that tells the White House "to defeat and destroy ISIL. Period." Another Republican running for president, Senator Lindsey Graham of South Carolina, insists Obama's limitations would "harm the war effort."
Others in Congress say Obama's proposal goes too far. Sen. Tim Kaine (D-Virginia) has been pushing for Congress to get a chance to debate the U.S. involvement against ISIS and has even sponsored a bill that would grant more-limited authorization. Although the bill is co-sponsored by Republican Jeff Flake of Arizona, it has gone nowhere.
-Noel Brinkerhoff, Steve Straehley
To Learn More:
The War That Congress Won't Declare (by Garrett Epps, The Atlantic)
Tim Kaine Criticizes Year of Inaction on ISIS (Augusta Free Press)
Congressional Republicans Approve Huge Increase in Fund for Wars in Iraq and Afghanistan despite Pentagon Asking for Less (by Steve Straehley and Noel Brinkerhoff, AllGov)