Common Core, an Early Target of the Right, Now Finds Displeasure from the Left
Wednesday, February 19, 2014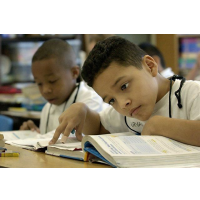 (AP photo)
Long opposed by conservatives, an effort to establish one set of education standards for the entire United States has now run into trouble with liberals in a key state.
The Common Core standards, which grew out of the National Governors Association and the Council of Chief State School Officers, have been adopted in 45 states and the District of Columbia, thanks in part to support from the Barack Obama administration.
They were intended to replace state standards, which varied wildly, with a uniform set of learning goals.
Many Republicans never liked the idea, fearing they represented a federal takeover of local schooling.
But some liberals in New York have now voiced concerns about Common Core.
"There are days I think, 'Oh my God, we have to slow this thing down, there are so many problems,'" Catherine T. Nolan, a Democratic state assemblywoman who represents Queens and chairs the State Assembly Education Committee, told The New York Times.
Carol Burris, who runs a high school on Long Island, called Common Core a "disaster."
"We see kids," she told the Times, "they don't want to go to school anymore."
Other Democrats in the legislature are reexamining Common Core, but aren't ready to throw out the standards entirely.
Democratic Gov. Andrew Cuomo has heard the complaints, including those from the state's teachers' union, prompting him to appoint a panel to recommend changes.
Many of the new critics say the state rushed into testing students on the new standards before new standardized tests were ready—resulting in a two-thirds failure rate.
Teachers have said they weren't trained sufficiently in the new curriculum, or that the proper textbooks and education materials weren't provided in time.
Michael J. Petrilli, a Common Core supporter and executive vice president at the Thomas B. Fordham Institute, an education policy group, warned the complaints on the left could spread beyond the state and "bleed-over" to others.
-Noel Brinkerhoff
To Learn More:
Common Core Curriculum Now Has Critics on the Left (by Al Baker, New York Times)
New York's Common Core Commotion (by Emmeline Zhao, Real Clear Politics)
Bipartisan U.S. Education Overhaul Fires up Emboldened Tea Party (by Noel Brinkerhoff and Danny Biederman, AllGov)