Coal Power Plant in Utah has not been Inspected for 12 Years
Wednesday, August 26, 2015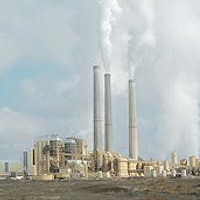 Hunter Power Plant (photo: Utah Geological Survey)
A coal-fired power plant in Utah considered a major source of air pollution by environmentalists has gone a dozen years without being inspected by state regulators.
Rocky Mountain Power's Hunter coal-fired power plant in Emery County is supposed to have its state air quality permit renewed every five years. That certification also involves the Utah Department of Environmental Quality (UDEQ) inspecting the plant to ensure it is complying with federal air quality standards for pollutants, such as sulfur dioxide, which can cause respiratory symptoms and cardiovascular problems, according to the Sierra Club. But the power plant has not had its state air pollution permit renewed since 2003, meaning it is long past due for an inspection.
The Sierra Club has sued UDEQ to force it to carry out its mandated duty to check the Hunter plant for air pollution violations. "Pollution from Rocky Mountain Power's Hunter coal-fired power plant is threatening the health of families throughout Utah and the things we love most about our state: our iconic national parks and public lands. For too long, our public officials have failed to ensure that the Hunter plant is complying with the most current clean air protections. Meanwhile the plant has continued to dump dangerous levels of pollution into our air we breathe and the water we drink," Lindsay Beebe, organizing representative for the Sierra Club's Beyond Coal campaign, said in a statement. "Enough is enough. It's time for UDEQ to do its job and duty by protecting clean air and public health for Utahns."
The Sierra Club says the Hunter power plant "is one of Utah's worst polluters and a major source of dangerous smog-causing nitrogen oxide pollution, soot, and smog pollution."
Furthermore, the group claims air quality modeling shows emissions from the plant are causing "significant exceedances of national clean air standards for dangerous sulfur dioxide pollution."
Pollution from Hunter and other sources has made the air in Utah's several national parks barely suitable for breathing, according to the National Parks Conservation Association. Using air quality data from 2008 through 2013, the group evaluated the air quality at the nation's national parks. Zion was the 16th-most polluted park the group surveyed, with Capitol Reef at No. 21 and Bryce Canyon at No. 22. Canyonlands and Arches were No. 29 and 30, according to the Salt Lake Tribune.
-Noel Brinkerhoff
To Learn More:
Sierra Club Files Suit To Compel State Officials To Protect Utahns From Hunter Coal Plant Pollution (Sierra Club)
Sierra Club v. Bryce Bird (Utah District Court, Salt Lake County)
Utah's National Parks Are Close To Failing The Clean Air Test (by Emma Penrod, Salt Lake Tribune)
Utah Wants to Send Trainloads of Coal to California Ports (by Ken Broder, AllGov California)