Climate Change Sends Big Agribusiness Companies North to Buy Land to Plant Grain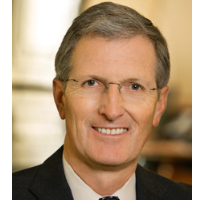 Greg Page, CEO of Cargill
Although many American corporations—think Exxon-Mobil—have spent heavily to deny the reality of global warming and prevent legislation designed to deal with it, that has not stopped some of them from trying to profit from climate change. In fact, several Wall Street investment firms have written detailed analyses on how to profit from warming.
Agribusiness giant Cargill, Inc.—the largest privately held corporation in the world—is certainly doing its best to make money off the looming disaster of global warming, even as environmental activists accuse it of making the problem worse by destroying rainforests to build palm oil plantations. Cargill's annual revenue of $119 billion is higher than 70% of the world's countries GDPs and the family that controls it is the richest in America.
Suggesting that climate "volatility can be an opportunity," Cargill CEO Greg Page explained last year that "The big part of our business is the physical handling of tens of millions of tons of food. If we believe the world is headed toward a varied weather pattern, those services become more important."
Cargill is investing in facilities in the northern tier states of the U.S., as well as in Canada, expecting global warming to cause increased grain production there, Page has said. A native of Bottineau, North Dakota, Page observes that farmers in northern North Dakota are able to grow crops today that they could not when he was in high school in the 1960s, because "they have six, eight days more of frost-free weather," thanks to a warming world.
Chemical giant DuPont is also trying to profit, specifically by developing new varieties of corn better adapted to northern regions like Saskatchewan and Manitoba, and new types of sorghum and sunflowers, crops it expects to make a comeback in the hotter, drier Great Plains.
-Matt Bewig
To Learn More:
Corn Belt Shifts North With Climate as Kansas Crop Dies (by Alan Bjerga, Bloomberg News)
New "Disaster Capitalism" Economy: Wars, Terror, Catastrophes are "IPOs" and "Emerging Markets" (by Paul B. Farrell, Wall Street Journal)