California's Marijuana Regulator Admits She Doesn't Know How it Affects People or "What it Does"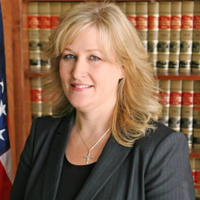 Bureau of Medical Marijuana Regulation chief Lori Ajax
Associated Press
SACRAMENTO, Calif. — California's medical marijuana czar says she believes there's a need for weed, although she's never smoked pot herself.
"Unlike regulating alcohol, I'm not a user of marijuana, so I am not familiar with how that affects people or what it does," Lori Ajax told the Los Angeles Times in an interview Thursday.
"But from the outreach I've done since I got here, it appears there is a medical need, and I'm tasked with doing this, and I'm going to do it."
Ajax was appointed as the first chief of the Bureau of Medical Marijuana Regulation in February by Gov. Jerry Brown. The job pays $150,636 a year and requires state Senate approval.
Ajax's division is working with several existing departments on drafting regulations that will guide the process for granting licenses, imposing sanctions, setting product-labeling and health standards, and tracking sales.
The Legislature, which passed the licensing law last year, wants to start regulating the well-entrenched and large medical marijuana industry by 2018.
Ajax is well aware of the deadline.
"I have on my whiteboard '633 days.' It's a good reminder how it's actually a short period of time," she said.
The schedule includes adding staff — the division is budgeted for 25 employees — and setting up meetings to get public feedback. Next will come drafting the regulations and putting them out for public comment.
Ajax wants to require background and fingerprint checks to weed out serious criminals who might want to be licensed growers and sellers.
Some of the key features of the medical marijuana framework the Legislature approved — such as limiting how many licenses an individual person or business can hold — were modeled after California's alcohol license laws.
Ajax was chief deputy director of the California Department of Alcoholic Beverage Control, where she has worked as an investigator and administrator since 1995.
The 51-year-old Republican said she doesn't remember whether she voted for Proposition 215, the 1996 ballot measure that legalized medical marijuana use.
"At the end of the day, my opinion shouldn't matter," she said. "This is what was passed into law, and I'm going to get this done by Jan. 1, 2018."
The job could expand to include regulating nonmedical pot if Californians vote to legalize recreational use. Backers are trying to place a legalization initiative on November's ballot.
Ajax said she had no position on the initiative.
"Right now, I have enough on my plate just dealing with medical marijuana," she said.
To Learn More:
California Ponders a State-Run Bank for the Marijuana Industry (by Ken Broder, AllGov California)
Federal Judge Tells DOJ to Back off Medical Marijuana Busts (by Ken Broder, AllGov California)
This Season's Crop of Medical Marijuana Bills May Be the Last Before the Storm (by Ken Broder, AllGov California)