California Supreme Court Says Undocumented Immigrant Can Practice Law…but It's against the Law to Hire Him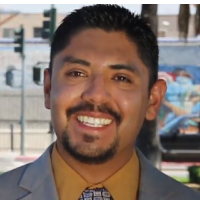 Sergio Garcia (photo: change.org)
California lawmakers dotted the "i" in September and state Supreme Court justices crossed the "t" on Wednesday, satisfying federal attorneys and making Sergio C. Garcia the first undocumented immigrant in the country to knowingly be granted a license to practice law.
The court ruled 7-0 that despite his illegal presence, Garcia can be admitted to the State Bar, but it also said federal laws will restrict where he can be employed and the type of work he can do. For instance, he can't be an employee of a law firm, corporation or government entity. That covers a lot of ground, although he can provide his legal services for free or outside the country.
The court addressed two basic arguments against Garcia's admittance. The first: he's illegally here and has no rights. Second: federal law imposes restrictions on employment of undocumented workers.
The justices reasoned that being in the U.S. illegally doesn't preclude taking an oath to uphold the laws of the land because "an undocumented immigrant's unauthorized presence does not constitute a criminal offense under federal law and thus is not subject to criminal sanctions." But they didn't offer any relief from federal job restrictions.
Garcia's lawyers said their client could skirt the restrictions by practicing law as a sole practitioner "independent contractor," but the feds told the court he can't do that either. The justices didn't really care. The law said he could be admitted to the bar and they assumed we would obey all the appropriate laws.
Similar cases are pending in New York and Florida, and the Garcia decision could provide momentum for others in his situation. That hope was also the fear of anti-immigration activists. Despite the heavy restrictions, they decried the grease applied by the court to the slippery slope that looms. Mark Krikorian, executive director at the Center for Immigration Studies, a think tank that supports tighter controls on immigration, told NBC News, "It's an absurdity, an illegal immigrant made an officer of the court. This is one more step toward eliminating the distinction between legal and illegal immigrants."
Federal law forbids illegal immigrants from receiving a slew of "public benefits," including a public license, unless a state expressly allows it. At a hearing of the case September 6, the justices indicated that would be a deal killer for Garcia and urged state lawmakers to act if they want Garcia to be a lawyer. Garcia had the support of California Attorney General Kamala Harris and the State Bar.
Six days later, in the final days of the legislative session, lawmakers gutted and amended an unrelated bill to fashion a law making it clear undocumented immigrants could be lawyers, and overwhelmingly approved it.
Garcia was brought to the United States from Mexico by his parents when he was an infant. He returned to Mexico with them at age 9 and came back to the states at 17. The 36-year-old put himself through college and Cal Northern School of Law. Garcia was working as a paralegal when he applied to the bar. He passed the examination on his first try in 2009. Garcia applied for admittance to the bar in 2011 and is applying for U.S. citizenship, which could take up to 15 years.
His father, a naturalized U.S. citizen, applied for his son's legal residency in 1994. Garcia was put on a waiting list and was told he could get his green card in six years. He's still waiting.
-Ken Broder
To Learn More:
Immigrant in U.S. Illegally May Practice Law, California Court Rules (by Jennifer Medina, New York Times)
Immigrant Without Green Card Can be a Lawyer, California Court Rules (by Maura Dolan, Los Angeles Times)
California Illegal Immigrants Can Get Law License, State Supreme Court Rules (by Howard Mintz, San Jose Mercury News)
Illegal Immigrant Who Wants to Be a Lawyer Has His Day in the High Court (by Ken Broder, AllGov California)
In re Sergio C. Garcia on Admission (California Supreme Court)