California Police Accused of Ignoring Press Rights
Saturday, February 27, 2016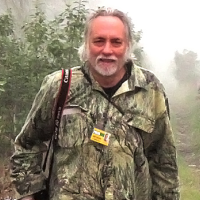 Steve Eberhard (photo: Tree Spirit Project)
By Nicholas Iovino, Courthouse News Service
SAN FRANCISCO (CN) - State police treated the media like an enemy and made no distinction between journalists and environmental protesters they were removing and arresting at a highway construction site, a news photographer testified Friday.
In the final day of witness testimony in his false-arrest trial against the California Highway Patrol, photojournalist Stephen Eberhard said officers subjected him to a pattern of intimidation, threats and harassment to deter him from covering one of the state's largest highway projects in decades.
"They treated us like we weren't press," Eberhard told the jury on Friday. "We were protesters. That's the way we were treated many times."
Eberhard sued the CHP and three officers that assaulted and arrested him as he covered the Willits Bypass Project, a $300-million rerouting of Highway 101 in the Northern California town of Willits.
After arresting Eberhard for trying to snap photos of two protesters that locked themselves to construction equipment on July 23, 2013, the arresting officer, co-defendant Christopher Dabbs, told a jailer, "I've got another protester for you," Eberhard testified Friday.
The newsman said he made a point to remind Dabbs that he was an objective newspaper photographer, not a protester.
While Eberhard and an independent videographer covered another protest on June 12, CHP Sgt. Braden Moffett looked at the two journalists and told them they would be the first two arrested even though they were accompanied by an official escort from the state Department of Transportation, or Caltrans.
A few weeks later, Eberhard drove down to the construction site with his wife when an unknown CHP officer approached his car and recognized him, he said.
Eberhard's wife Lana testified in court Thursday that the officer's facial expression immediately changed when he realized her husband was the journalist that had been taking photos of police arresting protesters at the site.
"His face just hardened and his demeanor changed, and there was this hostility" Lana Eberhard said of the officer. "You could just sense it. He said, 'If you don't leave the area, you'll be arrested.'"
Earlier this week, co-defendant and CHP officer Teddy Babcock admitted he shoved Eberhard four times as the newsman tried to shoot photos of construction work at the project site on May 31, 2013.
"I was afraid he might assault me again," Eberhard said. "I was pretty shook up. I was not expecting any officer of the law to attack me like that, and while I'm taking photos."
Babcock said he took that action because the area was unsafe, but Eberhard claims Babcock was retaliating against him for a previous encounter. A few weeks earlier, Eberhard had asked Babcock why he yelled at him and no one else to back far away from an area where two people were being arrested - preventing Eberhard from snapping a photo of the event.
Babcock folded his arms and said, "I'm not saying another word," according to Eberhard.
"My impression is that he is a hot-head and knew he shouldn't say anything further," Eberhard said.
On cross-examination, state prosecutor Harry "Chip" Gower III asked Eberhard if anyone from Caltrans ever told him he could access the construction site without an escort.
Gower played a video of Eberhard's deposition testimony, in which Eberhard acknowledged he knew Caltrans did not want him entering the site without an escort.
The day Eberhard was arrested on July 23, 2013, he had called his escort and asked him to meet him at the site, but he did not have an escort with him at the time.
Gower also asked Eberhard if he felt he could manipulate younger officers like Dabbs, who were less familiar with the ropes, into letting him come onto the site and take photos when he had no authorization to do so.
The state prosecutor also pointed out that Eberhard still has many friends and strong ties to civic organizations in the community, downplaying the damages to Eberhard's reputation that he claims he suffered as a result of the arrest.
Friday was the fourth day of the trial and the last day of witness testimony.
Closing arguments and jury deliberations are expected to begin Monday.
U.S. District Judge James Donato instructed the nine-member jury that it must decide if Babcock, who pushed Eberhard, and the two arresting officers - Dabbs and Kory Reynolds - were motivated to retaliate against Eberhard or chill his First Amendment rights when they assaulted and arrested him.
To Learn More:
FAA Imposed No-Fly Zone in Ferguson to Keep Media Away (by Noel Brinkerhoff, AllGov)