Bostonians Torn Over Olympics that Might Have Been: Deep Regret or Sigh of Relief?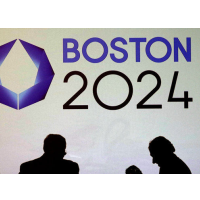 (photo: Charles Krupa, AP)
Boston is no longer in the running for the 2024 Olympics, and residents of that city appear to be divided on whether that's a good thing.
Boston Globe columnist Shirley Leung says the decision came down to a tussle between the Old and New sides of Boston, with the former having "smothered" the latter. "Here's the issue: New Boston acts a lot like Old Boston. We still put up a fierce fight when someone tries something novel. Given the chance to think big about our future, we tied ourselves up in the minutiae of tax breaks and traffic studies. Accusations quickly replaced ambitions," Leung wrote.
There will be regrets, she says, over the missed opportunities to upgrade some of the local sport venues if the Olympics had come to town. The Sportsmen's Tennis & Enrichment Center in Dorchester could have gotten "massive upgrades and a world stage," while Quincy won't get the chance to host Olympic beach volleyball.
Others are glad the U.S. Olympic Committee (USOC) pulled Boston's bid to host the event, saying the Games are too expensive. Globe columnist Joan Vennochi called those who fought the bid heroes in the best Revolutionary tradition. "Naysayers, after all, helped make Boston the city it is," she wrote. "They said no to King George III — who also underestimated the enemy — and yes to democracy." In addition, polls showed that public support for the Olympics was weak and Mayor Martin J. Walsh refused to guarantee that taxpayers would cover cost overruns.
-Noel Brinkerhoff, Steve Straehley
To Learn More:
New Boston a lot like Old Boston (by Shirley Leung, Boston Globe)
Many in Boston Feel Relief as Olympic Bid Ends, but Others See a Stagnant City (by Katharine Seelye, New York Times)
Boston's Exit from 2024 Olympics Picture Puts L.A. in the Frame (by Ken Broder, AllGov)