Big Drug Firms Mobilize Patient Groups to Lobby against Publication of Secret Drug Testing Data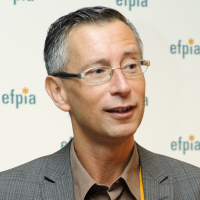 Richard Bergström, director general of EFPIA (photo: Lander Loeckx, EFPIA)
Big Pharma is using patient groups to fight a European plan that would require the industry to disclose its secret documents on drug testing.
Under proposals being developed by the European Medicines Agency (EMA), drug makers would have to release all of their data, including results that show drugs don't work or do cause dangerous side effects.
To fight off this mandate, pharmaceutical manufacturers have "mobilized" an army of patient groups to lobby against the plans, according to Ian Sample of The Guardian.
Currently, the companies publish only a small amount of their testing results and keep the rest hidden from public scrutiny.
Proponents of the EMA plans say the publishing of all drug trial data would allow independent scientists to analyze the results and verify their accuracy.
The strategy of employing patient groups to battle these plans was crafted by two large trade organizations, the Pharmaceutical Research and Manufacturers of America (PhRMA) and the European Federation of Pharmaceutical Industries and Associations (EFPIA), according to an industry memo obtained by The Guardian.
The memo, from Richard Bergström, director general of EFPIA, was sent to directors and legal counsel at numerous major pharmaceutical firms, including Roche, Merck, Pfizer, GSK, AstraZeneca, Eli Lilly, Novartis and many smaller companies. It tells them that the campaign begins with "mobilizing patient groups to express concern about the risk to public health by non-scientific re-use of data."
That campaign appears to be already well under way, according to information provided to The Guardian by a source in the European Parliament who is involved with the clinical trials plan. "We've witnessed this sort of activity in recent months," he told the newspaper, "and it's a concern if the pharmaceutical industry is behind some of it. They are trying to weaken some of the transparency proposals and that's clear from the amount of lobbying we've had."
Drug companies who received the EFPIA memo were queried by The Guardian and either denied that they had signed on to the campaign, were non-committal, or simply didn't respond.
Tim Reed, of Health Action International, a group that has previously exposed the pharmaceutical industry's financial links with patient groups, told the newspaper: "It's incredibly ironic that this is a transparency initiative and we've now got clear indications that the pharmaceutical industry is ready to use patient organizations to fight their corner."
Reed added: "It underlines the fact that patient groups who are in the pay of the pharmaceutical industry will go into battle for them. There's a hidden agenda here. The patient groups will say they think it's a great idea to keep clinical trials data secret. Why would they do that? They would do that because they are fronts for the pharmaceutical industry."
-Noel Brinkerhoff
To Learn More:
Big Pharma Mobilising Patients in Battle over Drugs Trials Data (by Ian Sample, The Guardian)
The Shady Overlap of Disease Charities and Drug Companies (by David Wallechinsky and Noel Brinkerhoff, AllGov)
U.S. Drug Companies Save Money by Testing New Products on Poor Foreigners (by David Wallechinsky, AllGov)