Beef Production Far Worse for the Environment than other Animal Products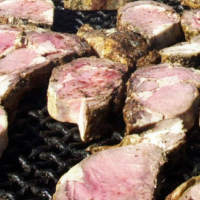 (AP Photo)
It's often been said that too much red meat can be bad for the human body. It turns out that beef can also be unhealthy for the planet.
A new study conducted by U.S. and Israeli researchers and published in a leading scientific journal says cattle production is more taxing on the environment than other animal farming.
Cattle raised for the beef industry produce more greenhouse gas emissions and water pollution, among other things, than efforts involving dairy cows, pigs and chickens, the experts found.
"The best way in this context to lower your environmental impact is to eliminate beef whenever possible and replace it with other sources of sustenance," Gidon Eshel, an environmental physics professor at Bard College in Annandale-on-Hudson in New York who led the study, told CBC News.
Published in the Proceedings of the National Academy of Science, the research revealed beef cattle utilized 28 times more land, required 11 times more irrigation water for feed, used six times more nitrogen fertilizer that pollutes waterways, and discharged five times more greenhouse gases, particularly methane.
On average, eating beef is about ten times more costly to the environment than eating any other animal-based foods, according to the report.
-Noel Brinkerhoff
To Learn More:
Land, Irrigation Water, Greenhouse Gas, and Reactive Nitrogen Burdens of Meat, Eggs, and Dairy Production in the United States (by Gidon Eshela, Alon Shepon, Tamar Makov, and Ron Milo, PNAS)
Beef's Environmental Costs Called Exceptionally High (by Emily Chung, CBC News)
Research Reveals the Comparative Environmental Costs of Livestock-Based Foods (Phys.org)
Growth of Factory Farming Leading to Uncontrolled Problems of Animal Waste (by Noel Brinkerhoff, AllGov)