As Mass Shootings Continue, Congress Remains Gun Shy about Enacting New Laws
Friday, September 20, 2013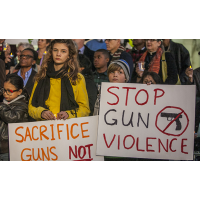 Gun violence rally in Los Angeles (photo: Damian Dovarganes, AP)
Unlike the period following the school shooting last year in Newtown, Connecticut, the aftermath of this week's mass shooting is not expected to include a long political debate, let alone actual legislative action, to tighten gun laws in the United States.
On Capitol Hill, which was only 1.5 miles from the Washington Navy Yard slaughter, lawmakers don't plan to introduce new bills or revive those that failed following the Sandy Hook Elementary School shooting in December.
Many Democrats say they would like to take another try at adopting tougher gun-control measures. But they add that there's no point in trying right now because support in Congress hasn't changed, even after 12 people were gunned down on Monday.
"We don't have the votes," Senate Majority Leader Harry Reid (D-Nevada) told reporters after meeting with his caucus. "I hope we get them but we don't have them now."
Senator Patrick J. Toomey of Pennsylvania, one of the few Republicans to join with Democrats earlier this year on failed legislation to expand background checks, concurred with Reid's assessment the day after the latest shooting.
"It is unclear if yesterday's tragedy changes the atmosphere sufficiently to yield a different outcome," Toomey told The Los Angeles Times.
Monday's shooter, Aaron Alexis, entered the Navy Yard with a shotgun he purchased only two days earlier at a Virginia gun store, along with two boxes of ammunition. He was able to do so despite having a history of mental illness, as well as a criminal record of gun-related charges.
Senator Christopher S. Murphy (D-Connecticut) said it was "unconscionable" for Congress to do nothing after what happened.
"There were a number of families I heard from in Newtown that said yesterday brought them back to that day in the firehouse," where parents waited for their children, he told the LA Times. "People in Newtown shake their heads when they see another shooting and further potential indifference from Congress."
-Noel Brinkerhoff
To Learn More:
Navy Yard Shooting Unlikely to Revive Gun Control Legislation (by Michael A. Memoli, Los Angeles Times)
Harry Reid Admits: 'We Don't Have the Votes' for New Gun Legislation (by Agence France-Presse)
Navy Yard Shooting Unlikely to Jump-Start the Debate over Tougher Gun Control Laws (by Ed O'Keefe, Washington Post)
Foreigners Say They Are No Longer Surprised at U.S. Gun Violence (by Anthony Faiola and Karla Adam, Washington Post)
Three-Quarters of Weapons Used in Mass Killings in U.S. were Bought Legally (by Noel Brinkerhoff, AllGov)
Large Numbers of Americans Think Existing Guns Laws are Stronger than They Really Are (by Noel Brinkerhoff, AllGov)
Is the AR-15 becoming the Weapon of Choice for Deranged, Young Male Mass Murderers? (by Noel Brinkerhoff, AllGov)