As Marijuana Goes Legal in U.S., Mexican Drug Cartels Pump up Heroin and Meth Sales
Tuesday, January 13, 2015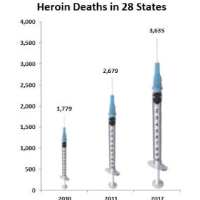 (graphic: Steve Straehley, AllGov)
The marijuana legalization movement in the United States has forced drug cartels in Mexico to revamp their export operations, shifting from pot cultivation to heroin and methamphetamine sales.
This development has been noticed by the Drug Enforcement Administration (DEA), which says federal agents are seizing less marijuana these days along the border. At the same time, confiscation of heroin and meth packages is soaring.
Over the past three years, pot seizures near the Mexico border have declined 37%, according to The Washington Post. That's because Americans now prefer higher-quality, domestic marijuana options that have increasingly become available in the 23 states that have approved marijuana for recreational or medical use. U.S. product is more in demand because they are "genetically improved strains, grown in greenhouses," Raul Benitez-Manaut, a drug-war expert at Mexico's National Autonomous University, told the Post. "That's why the Mexican cartels are switching to heroin and meth."
Determined to keep making money, Mexican drug cartels are shipping more heroin and meth to the U.S. Federal agents know this by the increases in seizures from Mexico. Heroin bundles totaling 2,181 kilograms were confiscated in 2014, which was three times the amount seized in 2009. The number of Americans using heroin has tripled in five years, with total estimated users numbering 600,000.
Meth was even more in demand as seizures have quintupled during that period—15,803 kilograms of meth seized last year, up from 3,076 kilos in 2009, the Post's Nick Miroff reported.
-Noel Brinkerhoff
To Learn More:
Losing Marijuana Business, Mexican Cartels Push Heroin And Meth (by Nick Miroff, Washington Post)
Heroin-Trafficking Groups Employ Friends, Relatives In Arizona (by Allison Walker, Cronkite News)
Tracing The U.S. Heroin Surge Back South Of The Border As Mexican Cannabis Output Falls (by Nick Miroff, Washington Post)
Increasing Addiction to Prescription Opioids Fuels Rise in Heroin Overdose Deaths (by Noel Brinkerhoff, AllGov)