Anti-Illegal Immigrant Criminal Program Shifted Focus Away from Criminals
Friday, February 06, 2009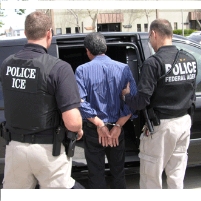 As the Obama administration promises to revamp its immigration policy to target criminals, a new report says that in recent years, a high-profile federal program created to catch illegal immigrants with criminal records shifted its focus towards simply arresting as many immigrants as possible.
In 2003, fugitives with criminal convictions represented 32 percent of all arrests, a figure that dropped to 17 percent in 2006 and 9 percent in 2007.
Funding for the Fugitive Operations Program grew from $9 million in 2003 to $219 million in 2008, and the number of fugitive operations teams grew from 8 to 104. In January 2006, ICE raised arrest quotas for each team in the program from 125 to 1,000 and ended a requirement that 75 percent of those arrested be criminals. Later, ICE let teams count non-fugitives toward their numerical goal. As a result, non-fugitive arrests rose to 40 percent in 2007.
According to Peter L. Markowitz, a Cardozo law professor, Bush officials approved such tactics because they were "facing political pressure to look tough on immigration enforcement."
This year and last, Congressional Democrats gave ICE $350 million and told the agency to redirect an additional $850 million to catch and deport criminals.