Americans' DNA Stored by Popular Genealogy Services Are Vulnerable to Law Enforcement Access
Wednesday, October 21, 2015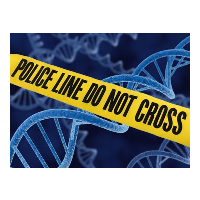 (graphic: National Institute of Standards and Technology; photo illustration: Steve Straehley, AllGov)
Millions of Americans have had their DNA stored at popular genealogy companies Ancestry.com or 23andMe. But doing so comes with the risk that their genetic samples will be turned over to law enforcement conducting investigations, even with no evidence tying them to a crime.
Ancestry.com and 23andMe both have privacy policies that claim to protect their information and DNA from unauthorized use. But these policies contain exemptions buried within them that state Ancestry.com and 23andMe will deliver DNA samples to police requesting them.
This got New Orleans filmmaker Michael Usry into serious legal trouble. Police in Idaho trying to solve a murder did a "familial genetic search using semen collected in 1996," according to Fusion. Police searched a publicly available Ancestry.com database and got a familial match to a saliva sample Usry's father had given years earlier. They presented Ancestry.com with a warrant seeking the name of the person who had given the sample.
Usry was ultimately determined to be innocent and Ancestry.com subsequently took that publicly available database offline.
The Electronic Frontier Foundation called Usry's case a "wild goose chase" that demonstrated "the very real threats to privacy and civil liberties posed by law enforcement access to private genetic databases," according to Fusion.
-Noel Brinkerhoff
To Learn More:
Popular Sites 23andMe and Ancestry.com Turn Users' DNA Information Over To Police (by Lauren C. Williams, ThinkProgress)
Cops are Asking Ancestry.com and 23andMe for their Customers' DNA (by Kashmir Hill, Fusion)
Your Relative's DNA Could Turn You Into a Suspect (by Brendan I. Koerner, Wired)
Ancestry.com's Promise of Privacy isn't Real (by Noel Brinkerhoff, AllGov)