Alarming Rise in Temperatures in U.S.'s Northernmost Town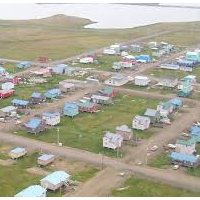 Barrow, Alaska (photo: Wikipedia)
It hasn't yet joined the ranks of Waikiki and Miami Beach as a place to frolic in the sun, but Barrow, Alaska, (population: 4,373) the northernmost town in the United States, has been getting warmer—much warmer, according to a climate study (pdf).
Research into weather records by the University of Alaska Fairbanks shows that the average temperature in Barrow rose by 2.7 degrees Celsius (about 5 degrees F) from 1979 to 2012. October average temperatures increased by an amazing 7.2 degrees Celsius (about 13 degrees F) over the same period. November's averages climbed by nearly as much.
"I was actually astonished about it," Gerd Wendler, the study's lead author, told Alaska Dispatch News. "I think I have never, anywhere, seen such a large increase in temperature over such a short period."
The huge increase in October temperatures helped narrow down the cause of the increase—the lack of sea ice in the Arctic Ocean. Since the sun is below the horizon in October, the only cause of warming can be the north winds that blow through Barrow. Those winds are usually cooled by the ice they travel over, but now they're coming in over open ocean, which releases heat into the air.
There are still wide temperature fluctuations in Barrow; the town experienced its coolest summer day ever recorded this year, so it's possible the trend could be reversed. But there's no question that the ice pack is shrinking.
-Steve Straehley
To Learn More:
Barrow's Dramatic Autumn Warming Since 1979 Linked To Sea Ice Shrinkage (by Yereth Rosen, Alaska Dispatch News)
Ice Loss Sends Alaskan Temperatures Soaring (by Alex Kirby, Climate News Network)
Strong Temperature Increase and Shrinking Sea Ice in Arctic Alaska (by Gerd Wendler, Blake Moore and Kevin Galloway, Open Atmospheric Science Journal) (pdf)
Global Warming in Alaska Reveals Remains of 1952 Air Force Crash (by Noel Brinkerhoff, AllGov)
Barrow, Alaska: Ground Zero for Climate Change (by Bob Reiss, Smithsonian Magazine)
Spy Photos of Alaska Reveal Shrinking Ice Sheets (by Noel Brinkerhoff, AllGov)