Alarm Sounded on Release of Genetically Engineered Moths
Thursday, November 12, 2015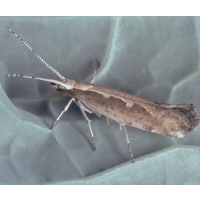 Diamondback moth (photo: Cornell University)
A coalition of environmental, consumer, and organic farming groups are drawing attention to plans for releasing genetically engineered (GE) moths in New York state, a move fraught with unknown repercussions, they say.
Diamondback moths have been genetically altered and tested in enclosed screened cages at Cornell University. Researchers plan to release the GE moths as part of open trials next spring. They have been altered so female offspring die in the larval stage and males continue to reproduce until there are no longer females in the population, in the hopes of controlling the number of moths in the wild.
Those speaking out against the release of GE moths are the Center for Food Safety, Food & Water Watch, Friends of the Earth U.S., and the Northeastern Organic Farming Association of New York. They claim releasing the moths pose numerous risks, including impacts to other species, contamination of crops, and unknown evolutionary changes.
Dana Perls, food and technology policy campaigner at Friends of the Earth U.S., warned the upcoming trial was unnecessary and possibly dangerous. "There is no need to meddle with moths in New York when there are plenty of non-toxic and organic alternatives to manage these secondary pests," Perls said.
Jaydee Hanson, senior policy analyst at Center for Food Safety, said: "Once these GE moths are out in the wild, there is no turning back. Every possible scenario needs to be accounted for. Until federal agencies have implemented rigorous regulations around GE insects, this GE moth trial should be halted."
-Noel Brinkerhoff
To Learn More:
Advocacy Groups Call for Halt to Cornell Open Air Field Trials of Genetically Engineered Moths (Corporate Crime Reporter)
Genetically Modified Moths Released In New York (by Christina Sarich, Natural Society)
Genetically Engineered Crops Lead to Increase in Use of Herbicides (by Noel Brinkerhoff and David Wallechinsky, AllGov)