Agriculture Dept. to Let Poultry Companies Inspect their own Facilities
Saturday, August 02, 2014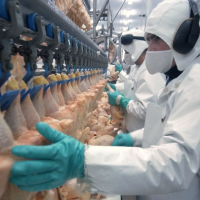 (AP Photo)
Insisting the change will reduce the risk of food poisoning cases, the U.S. Department of Agriculture (USDA) will let poultry companies inspect their own processing lines, instead of maintaining the current system of federal inspectors doing so.
The switch will leave the industry responsible for spotting and removing diseased chickens and turkeys, as well as fecal matter from areas where birds are prepped for shipping to food producers. Agriculture Secretary Tom Vilsack said the change "will increase the chances of us detecting problems by placing the burden of finding contaminates such as salmonella on the plants."
Companies do have the choice of opting out of the new system and having officials from the Food Safety and Inspection Service continue to inspect processing lines.
Currently, USDA employees can inspect 35 birds a minute, which means that four inspectors are required for each line. But the new regulations will allow one inspector—employed by the plant owner—per line. There will still be one USDA inspector on each line.
The new USDA rules do maintain the speed of the processing lines at 140 birds per minute. A draft version of the plan would have allowed speeds to increase to 175 birds per minute.
Wenonah Hauter, executive director of Food & Water Watch, said in a statement: "With the poultry industry standing to gain financially due to increased production and fewer regulatory requirements, the plan is a gift from the Obama administration to the industry, one that will undermine consumer and worker safety, as well as animal welfare."
As for maintaining the line speed at 140 birds per minute, Hauter said: "This is not a meaningful victory because there are not accompanying worker-safety regulations to deal with the musculoskeletal disorders and other work-related injuries that both the plant workers and USDA inspectors suffer every day working in the poultry slaughter plants."
Daisy Freund, senior manager of farm animal welfare at the American Society for the Prevention of Cruelty to Animals, agreed. "It is not a victory for consumers, workers or animals," Freund told The New York Times. "They maintained the status quo of line speeds that already move too fast."
-Noel Brinkerhoff, Steve Straehley
To Learn More:
New Rules Say Poultry Plants Can Conduct Own Checks (by Ron Nixon, New York Times)
USDA Approves Controversial New Poultry Inspection Overhaul (by Connor Adams Sheets, International Business Times)
Agriculture Dept. Refuses to Divulge Details of New Poultry Inspection Rule (by Steve Straehley, AllGov)
Objection to USDA Plan Allowing Poultry Producer Self-Inspection Spreads to Congress (by Danny Biederman and Noel Brinkerhoff, AllGov)
Food Safety Inspectors Object to Allowing Poultry Companies to do Their Own Inspections(by David Wallechinsky and Noel Brinkerhoff, AllGov)