Advanced Melting Rate of Glaciers, Due to Climate Change, Said to be "Unprecedented" and Past Point of No Return
Thursday, August 06, 2015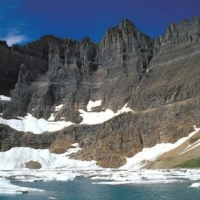 Melted glacier in Glacier National Park (photo: National Park Service)
Glaciers around the world are melting at an "unprecedented" rate, and even if the warming of the planet ceased getting worse, they would continue to disappear, a new study says.
Experts at the World Glacier Monitoring Service in Switzerland said many glaciers are melting up to three times the rate of the 20th century. "The observed glaciers currently lose between half a meter and one meter of its ice thickness every year—this is two to three times more than the corresponding average of the 20th century," Michael Zemp, lead author of the study and director of the World Glacier Monitoring Service, said in a statement about the study.
The researchers characterized the melting as "historically unprecedented," and said "centennial glacier retreat is a global phenomenon."
"Exact measurements of this ice loss are reported from a few hundred glaciers only," Zemp said. "However, these results are qualitatively confirmed from field and satellite-based observations for tens of thousands of glaciers around the world."
But Zemp wasn't done with the bad news, adding the melting has a momentum of its own. "These glaciers will suffer further ice loss, even if climate remains stable," he said.
-Noel Brinkerhoff
To Learn More:
World's Glaciers Melting Faster than Ever before Recorded, Study Finds (by Samantha Page, ThinkProgress)
Global Glaciers Melting up to Three Times Rate of 20th Century (by Sarah Lazare, Common Dreams)
Glaciers Melt Faster than Ever (University of Zurich)
Historically Unprecedented Global Glacier Decline in the Early 21st Century (by Michael Zemp, Holder Frey, Isabelle Gärtner-Roer, Samuel Nussbaumer, Martin Hoelzle, Frank Paul, Wilfried Haeberli, Florian Denzinger, Andreas P. Ahlstrøm, Brian Anderson, Samjwal Bajracharya, Carlo Baroni, Ludwig N. Braun, Bolivar Cáceres, Gino Casassa, Guillermo Cobos, Luzmila Dávila, Hugo Delgado Granados, Michael N. Demuth, Lydia Espizua, Andrea Fischer, Koji Fujita, Bogdan Gadek, Ali Ghazanfar, Jon Ove Hagen, Per Holmlund, Neamat Karimi, Zhongpin Li, Mauri Pelto, Pierre Pitte, Victor V. Popovnin, Cesar A. Portocarrero, Rainer Prinz, Chandrashekhar V. Sangewar, Igor Severskiy, Oddur Sigurðsson, Alvaro Soruco, Ryskul Usubaliev, and Christian Vincent, Journal of Glaciology) (abstract)
"Unstoppable" Polar Ice Melt Portends Rising Oceans and Society in Crisis (by Noel Brinkerhoff, AllGov)