73% of Inmates who Die in Jail Haven't been Convicted of a Crime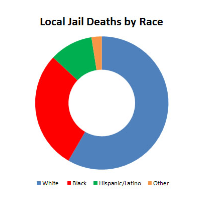 (graphic: Steve Straehley, AllGov)
Being arrested for a crime isn't supposed to be the same thing as being convicted, yet many people awaiting trial suffer the ultimate penalty—death—while they're in custody.
A report (pdf) by the Bureau of Justice Statistics (BJS) shows that 73% of those who die in jail haven't been convicted of a crime. In addition, 29% of those who die are African-American, more than double their percentage of the U.S. population at large.
Studies have shown that black people are more likely to be held while awaiting trial, partly because they are assigned higher bail amounts, by thousands of dollars, than whites are. For that reason, African-Americans are more likely to be stuck in jail awaiting trial even for minor offenses.
BJS found that 31.3% of all jail deaths in 2012 were by suicide.
Texas jailers appear to show a particular indifference towards life. There have been 140 suicides in Texas jails since September 2009, according to the Houston Chronicle. That's one every two weeks. Inmates with known mental problems, even those who have attempted before to take their own lives, are put into cells with the same means to suicide that they used previously. Not surprisingly, some inmates take full advantage of those second chances at death. But identifying at-risk inmates is the key.
"What is issued in the cell is secondary to properly identifying an individual that may have suicidal ideations," Brandon Wood, director of the Texas Commission on Jail Standards, told the Chronicle. "After reviewing deaths in custody over the last few years, we keep identifying lapses in observation and proper screening."
-Steve Straehley
To Learn More:
Mortality in Local Jails and State Prisons, 2000–2012 - Statistical Tables (Bureau of Justice Statistics) (pdf)
Why So Many African Americans Get Stuck In Jail, In One Chart (by Dylan Petrohilos and Andrew Breiner, ThinkProgress)
Inmates Find Variety Of Methods, Tools To End Their Lives (by St. John Barned-Smith and Madlin Mekelburg, Houston Chronicle)