54 Years after Being Jailed for Sitting at All-White Lunch Counter, Civil Rights Protestors to Be Exonerated in Court
Wednesday, January 21, 2015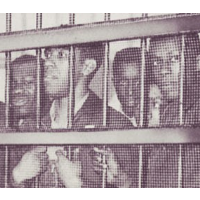 Friendship Nine in jail, 1961 (photo: friendshipcollege.org)
Nine African American men jailed for sitting at an all-white lunch counter during the civil rights movement are finally having their criminal records cleared.
The "Friendship Nine" challenged racial segregation in Rock Hill, South Carolina on January 31, 1961 by refusing to leave the lunch counter at McCrory's, a five-and-dime store. They went into the store with a strategy called "jail, no bail," intending to force local law enforcement to incarcerate them, which they believed would draw more attention to their cause. The men refused to post bail and were sentenced to 30 days of hard labor at a county prison farm.
"They carried the stigma of a criminal record much longer, they said, and for years did not talk about the experience, even with their own families," according to Reuters.
Eight of the men are still alive and plan to attend a court hearing in Rock Hill scheduled for January 28 that will find them not guilty. Previous suggestions that their records be expunged were rejected because it was felt that that would imply the men were seeking forgiveness and erase a part of history.
"What these gentlemen did was take a courageous stand against an obnoxious and vile policy," judicial circuit solicitor Kevin Brackett said. "It's important that we publicly and legally recognize the wrongfulness of those convictions."
-Noel Brinkerhoff, Steve Straehley
To Learn More:
'Friendship Nine' to be Cleared of Civil Rights Sit-in Crimes (by Colleen Jenkins, Reuters)
2015: The Year the Courts Bury Segregation by Absolving the Friendship Nine (by Andrew Dys, Rock Hill Herald)
Rock Hill, Jail No Bail & the Friendship Nine (Friendship College)
Black and White Unite…After 48 Years (AllGov)