34 Air Force Nuclear Launch Officers Lose Security Clearance over Test Cheating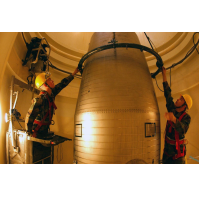 Minuteman III missile at Malmstrom Air Force Base (photo: U.S. Air Force)
The U.S. Air Force has again been embarrassed by its officers in charge of launching the nation's silo-based nuclear missiles.
This time, 34 officers—also known as missileers—were involved in cheating on monthly proficiency exams that test their knowledge of firing the missiles during a crisis. One officer was charged with sending correct answers by text message to 16 of the test-takers. The other 17 were charged with having knowledge of the cheating and not reporting it, which is a violation of Air Force ethics rules.
The cheaters, all stationed at Malmstrom Air Force Base in Montana, were suspended and had their security clearances revoked. A crew of 190 at the base is in charge of 150 Minuteman III missiles.
A former Minuteman missile launch control officer, Bruce G. Blair, told The New York Times that missileers routinely cheat on the tests, in part because the Air Force requires them to score 100% on them. "Perfection is demanded of all of these crew members, and it's an impossible standard," Blair said.
Morale has declined among the men and women who operate the missile silos, ever since the Cold War ended and counterterrorism became the primary focus of the military.
"The missileers have increasingly come to view their mission as a backwater, with little chance of advancement to the top ranks of the Air Force," the Time's Helene Cooper wrote.
The newspaper also reported that 11 officers—including two accused in the Malmstrom cheating scandal, as well as one other nuclear missile officer—are being investigated in an illegal drug scandal.
Miscues by missileers and their commanding officers have grown in frequency, including the following revelations from last year:
Major General Michael J. Carey, who helped oversee the nation's nuclear arsenal, was removed from his post in December for public drunkenness during an official trip to Moscow last summer.
In October, several missileers were repeatedly caught napping in their silos while the blast doors were open, a violation of security regulations.
In May, the Air Force announced that 17 missileers were removed their posts due to safety violations, potential violations in protecting codes and attitude problems.
-Noel Brinkerhoff
To Learn More:
Cheating Accusations Among Officers Overseeing Nuclear Arms (by Helene Cooper, New York Times)
Cold, Damp Underground Cheating (by R. Jeffrey Smith, Center for Public Integrity)
Air Force Reveals 34 Nuclear Officers Involved in Cheating Scandal (by Luis Martinez, ABC News)
US Nuclear Launch Officers Suspended for 'Cheating' (BBC News)
Air Force Nuclear Enterprise Follow-On Review (Permanent Task Force on Nuclear Weapons Safety, Department of Defense) (pdf)