211 Bodies Misplaced and Misidentified at Arlington Cemetery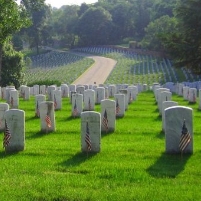 At least 211 graves at Arlington National Cemetery have been mishandled, provoking scorn and promises of investigation by lawmakers in Congress. The discovery was made by the inspector general for the U.S. Army who found remains interred at the historic burial site had been misidentified or misplaced, along with other problems such as improperly marked graves and poor recordkeeping.
Army Inspector General R. Steven Whitcomb said the cemetery could have more than 211 unmarked or wrongly identified graves. He did not say just how many more there might be.
-Noel Brinkerhoff