2014 Election Saw Lowest Voter Participation Rate in 72 Years
Tuesday, November 11, 2014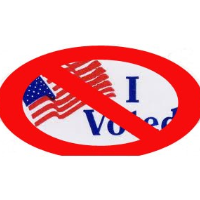 Graphic: Steve Straehley, AllGov)
Last week's election was largely decided by one of the smallest turnouts of eligible voters in modern U.S. history, which gave more weight to conservatives who were energized to vote.
Only 37% of those eligible to vote did on November 4, according to the Associated Press.
That was the lowest mark since 1942, when only 34% went to the polls. In 2010, the last midterm election, 41% of eligible voters cast ballots.
The low turnout 72 years ago was understandable: the nation was at war with Germany and Japan. The dearth of voters this time was an indication of how unmotivated Democrats were to go out and support their party, despite frantic efforts by the party to convince them otherwise.
Republicans trounced Democrats in state after state where there were tough fights for U.S. Senate seats. They even scored unexpected victories in "blue" states where incumbent Democrats weren't supposed to be in danger, winning governors' mansions in Maryland and Massachusetts.
The AP's Steve Peoples and Jennifer Agiesta wrote that the GOP victories "may have as much to do with the dynamics of a low-turnout midterm election as widespread dissatisfaction with President Barack Obama's leadership."
"This year's electorate was largely older, whiter and more male than is often the case in presidential years. Republican pollsters knew the GOP would benefit from a smaller and less diverse electorate, but didn't predict the extent to which some Democratic allies would stay home on Election Day," Peoples and Agiesta reported.
-Noel Brinkerhoff
To Learn More:
GOP Seizes on Anger, Demographics for Success (by Steve Peoples and Jennifer Agiesta, Associated Press)
2014 November General Election
National General Election VEP Turnout Rates, 1789-Present (United States Elections Project)
Report Shows Voter ID Laws Cut Participation in 2012 Election in Kansas and Tennessee (by Noel Brinkerhoff, AllGov)