17 Fort Carson Soldiers Charged in Domestic Killings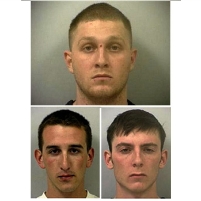 Louis Bressler, Kenny Eastridge, Bruce Bastien (clockwise) (photos: Colorado Springs Police Department)
Coming home has been a tragedy for many members of a U.S. Army unit stationed in Colorado. So far, 17 soldiers from Fort Carson, most of whom served in Iraq, have been charged or convicted of murder, attempted murder or manslaughter in the past four years. Most of killers were from the 500-man 2nd Battalion, 12th Infantry Regiment, which called itself the "Lethal Warriors." Three of them were in the same platoon.
During the 2007 "surge," Third Platoon of Charlie Company, 1st battalion, 506th infantry began each day by moving mutilated bodies in Baghdad. José Barco, the youngest member of the platoon, told BBC's This World, "It got to the point where it was like seeing a dead dog or a dead cat. If you're not numb in those moments, you're going to go crazy…. We were trigger happy. We'd open up on anything. They even didn't have to be armed. We were keeping scores." Barco is currently serving 52 years in prison for opening fire during a party in Colorado Springs and wounding a pregnant woman.
On November 30, 2007, after returning from Iraq, soldiers Kenny Eastridge, Louis Bressler, Bruce Bastien and Kevin Shields went out drinking one night. A drunken argument resulted in Shields being gunned down. Bastien and Bressler were sentenced to 60 years in prison and Eastridge to 10 years. Bressler had already robbed and shot a different soldier, and he and Bastien had hit a random woman with a car and then repeatedly stabbed her.
Eastridge, who had never left Kentucky before he enlisted in the Army, told Dave Philipps of the Colorado Springs Gazette, "In bayonet training, the sergeant would yell, 'What makes the grass grow?' and we would yell, 'Blood! Blood! Blood!' as we stabbed the dummy. The Army pounds it into your head until it is instinct: Kill everybody, kill everybody. And you do. Then they just think you can just come home and turn it off."
In May and June 2008, Rudolfo Torres-Gandarilla and Jomar Falu-Vives drove around Colorado Springs randomly shooting people with an assault rifle. In September 2008, John Needham beat a former girlfriend to death.
An Army report suggested that contributing factors to the cluster of violent episodes included "pre-existing personal risk factors," the stress of unusually intense combat and lack of referral to the Army's substance abuse program. The stigma of complaining about emotional stress has been cited by others, as in some cases the killers were taunted by their superiors for having problems.
-David Wallechinsky