15,000 Federal Employees and Military Caught in Ashley Madison Hack
Wednesday, August 26, 2015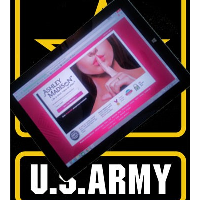 (photo illustration: Steve Straehley, AllGov)
The exposure of Ashley Madison's database has revealed that as many as 15,000 federal workers and active-duty military personnel may have signed up for the marital cheating website.
About two-thirds of the U.S. government emails found among the Ashley Madison files were of the .mil variety, meaning they belonged to people serving in or working for the U.S. military. There also were emails belonging to government employees with "sensitive jobs in the White House, Congress and law enforcement agencies," according to the Associated Press.
Does using a government computer to access a website dedicated to helping people have extramarital affairs constitute grounds for punishment? The answer, as thousands of government employees breathe a sigh of relief, is probably not.
"The rules of the game for morality in federal offices may be straightforward for pornography (watching it can definitely get you fired) — but the kind of skeleton in the closet that showed up in the trove of 36 million users exposed on the cheating Web site presents officials with a murkier problem, experts say," according to The Washington Post.
Porn is a big no-no because it is sexually explicit. But having visited Ashley Madison doesn't necessarily mean anything of a sexual nature occurred for a user. "They could have spent hours every week on the site, or visited once," the Post's Lisa Rein wrote. "They may be actually having an affair, or they may not."
Government employees are allowed to use work computers for some personal business, but in addition to the porn restrictions, they're forbidden from doing such things such as endorsing a product or service or selling products.
For its part, the Pentagon says it's not going to investigate Ashley Madison members among its ranks, the military's prohibition on adultery notwithstanding. "There is no crime in signing up for a website," Army spokesman Wayne Hall told The Daily Beast.
-Noel Brinkerhoff, Steve Straehley
To Learn More:
Can Feds Be Fired for Adultery? (by Lisa Rein, Washington Post)
Pentagon Gives Free Pass to Ashley Madison Cheaters (by Shane Harris, Daily Beast)
Cheating Website Subscribers Included WH, Congress Workers (by Jack Gillum and Ted Bridis, Associated Press)