12,000 Annual Injuries from Fireworks in U.S. Probably Low from Underreporting, Say Experts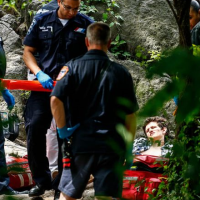 Medics tend to man who lost left foot in fireworks accident, July 2016 (photo: Getty Images)
By Kathleen Foody, Associated Press
ATLANTA (AP) — Most fireworks became legal in Georgia more than a year ago, but state officials can't say whether the number of people injured by them has changed — echoing a nationwide pattern in which experts believe fireworks injuries often go underreported and undercounted.
The federal Consumer Product Safety Commission reported (pdf) at least 11 deaths from fireworks in 2015 and 11,900 injuries requiring emergency room treatment. Commission spokeswoman Nychelle Fleming said the agency receives data about injuries and deaths voluntarily from coroners and hospitals in several states, including Georgia.
Georgia's state fire marshal, though, said his agency hasn't received reports from hospitals and other sources for years — in spite of a state law requiring that certain types of burn injuries be reported.
After Georgia lawmakers opened up sales of bottle rockets, firecrackers and other consumer fireworks in 2015, residents no longer had to visit neighboring Southern states to buy legally. Supporters of legalizing fireworks argued a ban didn't keep anyone safer and lost the state money. Opponents, who countered legal fireworks would spur more severe injuries, were overridden.
Federal and state reports warn that annual estimates almost certainly undercount fireworks-related injuries. People don't always seek treatment, and hospitals may not report every case.
What's known is that fireworks, especially when misused, can cause devastating injuries. For instance, the CPSC reported in 2015 that a 22-year-old man from Maine and a 47-year-old man from Michigan died in separate incidents after placing launch tubes for mortar-style fireworks on their heads after lighting the devices. The agency found 7.4 deaths a year on average linked to fireworks since 2000.
No deaths occurred in Georgia in 2015, the latest year tracked in federal statistics. Just after midnight on Jan. 1, though, a 27-year-old southeast Georgia man died when a firework struck him in the neck.
States have varying ways to count injuries. Some conduct surveys in the weeks around the July 4 holiday, a popular time to set off fireworks both legal and illegal. And several states publish annual reports of fireworks injuries, often by estimating injury counts based off voluntary reports from hospitals and other sources.
In Georgia, information is spotty despite a state law requiring hospitals to report any second- or third-degree burns affecting at least 5 percent of a patient's body. A fireworks-related burn may not always be that severe and state officials caution there's not enough data to adequately guess the number of people hurt by fireworks.
Some note the form used to report burns in Georgia initially required patient names, spooking doctors required to protect patient privacy by law.
State Fire Marshal Dwayne Garriss has held the post six years and is still trying to determine why Georgia hasn't come up with better figures. Garriss said the state overhauled the reporting process this summer since The Associated Press requested information his office collects on injuries.
Georgia's redesigned report no longer requests patient names.
"The first thing we can do is fix our form," Garriss told The Associated Press. "The next step is starting to reach out to the health care community to educate them and get them to understand what we're looking for."
Experts note other states struggle to get information from health care providers concerned about patient privacy.
Jim Narva, executive director of the National Association of State Fire Marshals, confirmed the issue arose at the group's annual conference this summer but no action was taken.
"What you are finding in (Georgia) is what it sounds like is happening in other parts of the country," Narva said.
Washington state is among those seeking detailed information from hospitals.
In Washington, the state fire marshal and Department of Health partner to collect yearly reports of injuries, deaths, fires and other damage caused by fireworks, said Chief Deputy State Fire Marshal Dan Johnson. They ask for specifics about the type of fireworks involved, how injuries occur and victims' ages.
"That lets us identify the products people are getting hurt with the most and develop new prevention materials," Johnson said. "If we're finding a lot people losing hands or fingers because they're holding tubes meant to be on the ground, for example, hopefully that gets attention."
He said information is sent to the federal Consumer Product Safety Commission, which can further investigate whether a specific type of firework is defective or just used incorrectly.
Garriss compared fireworks injury reporting to the fire incident reports his office receives from local fire departments. State officials search the reports for patterns and suggest solutions, he said. For instance, Georgia approved a ban on charcoal grills on balconies after investigators noticed a rash of fires stemming from their use in the 1990s.
"Having that information helped us find a problem and a solution to that problem," he said.
To Learn More:
Fireworks-Related Deaths and Emergency Department-Treated Injures During 2015 (by Yongling Tu, Division of Hazard Analysis, Consumer Product Safety Commission) (pdf)