10 States Stand Up for Transgender Bathroom Rights Challenged by Other States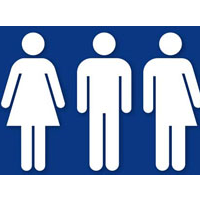 By Nick Divito, Courthouse News Service
(CN) — As the government contends with opposition to its guidance on transgender bathroom rights, 10 states and Washington, D.C., urged courts to deny the challenges.
The Obama administration solidified its position on the issue in May after taking aim at a new North Carolina law that requires people to use restrooms that correspond to the sex listed on their birth certificate.
With the government now tying federal funds to compliance with nondiscriminatory bathroom policies, Texas and other states brought a federal complaint of their own.
New York is at the head of coalition Thursday that filed friend-of-the-court briefs in connection to both cases.
The Empire State's Gov. Andrew Cuomo and Attorney General Eric Schneiderman called North Carolina's law "blatantly discriminatory."
They say cities and localities must be allowed to "protect the rights of transgender and non-gender-conforming people."
"Transgender people deserve to live with dignity, free from discrimination," Schneiderman said in a statement. "New York knows firsthand that forcing transgender students and workers to use facilities inconsistent with their gender identities is unnecessary, unworkable and undermines the core American ideal of equal justice under the law."
Cuomo meanwhile said the "divisiveness and discrimination" that North Carolina's law encourages "directly undermine the core of this nation."
"At a time when so many are seeking to create rifts that separate Americans from one another, it is our responsibility to fight back and do all we can to bring this nation closer together," the governor added.
North Carolina's law actually inspired Cuomo back in March to sign an executive order that bans nonessential travel to North Carolina.
In the North Carolina brief, New York was joined by Washington, California, Connecticut, Illinois, Maryland, Massachusetts, New Mexico, Oregon, and Vermont, plus the District of Columbia.
New Hampshire and Delaware joined the amicus brief in the Texas case.
While Texas claims that the federal guidance poses a safety risk to the public, "the coalitions brief again argues that no such harm has been demonstrated and that without this federal guidance, transgender people will be at risk of unjustified and unnecessary harm," according to a statement New York issued on the filings.
There are 12 other states that fighting the bathroom guidance in Texas: Alabama, Arizona, Oklahoma, Louisiana, Wisconsin, West Virginia, Tennessee, Maine, Utah, Georgia, Missippi and Kentucky.
To Learn More:
White House Directive Clarifies Transgender Rights in Schools (by Eric Tucker, Associated Press)