Vietnam's Ambassador to the United States: Who Is Pham Quang Vinh?
Saturday, February 14, 2015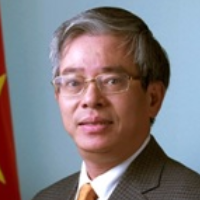 Pham Quang Vinh, a longtime member of Vietnam's Ministry of Foreign Affairs (MOFA), took over as his nation's ambassador to the United States on November 11, 2014. It's the first ambassadorial posting for Pham.
Pham attended Hanoi's University of Foreign Affairs beginning in 1975 and graduating in 1980. He began work for the Ministry of Foreign Affairs shortly thereafter as a desk officer in the ministry's Department of International Organizations, where he worked for most of his career.
He took time out to attend graduate school in Australia at the Canberra College of Advanced Education (now the University of Canberra), receiving an M.A. in international relations in 1985.
Pham's first assignment to the United States came in 1987 when he was made an attaché to his country's mission to the United Nations in New York. He returned home in 1990 and continued his way up the ladder in MOFA. In 1994, Pham was named assistant director general of the ministry's Department of International Organizations, becoming deputy director general the following year. He returned to New York in 1996 as a minister-counselor in the U.N. mission and was Vietnam's deputy permanent representative, remaining there until 1999.
In 2003, Pham was sent to Bangkok as a minister-counselor in Vietnam's embassy to Thailand. He returned to Vietnam in 2007 as deputy director general, and subsequently director general, of MOFA's department for the Association of Southeast Asian Nations (ASEAN). The following year Pham was made an assistant minister for foreign affairs and in 2011 was made deputy minister for South Asia, Southeast Asia and the South Pacific. He was also Vietnam's senior representative to ASEAN.
Pham quickly became the go-to person for comments on issues pertaining to Vietnam's claims in the South China Sea and China's efforts to assert its ownership of disputed territory there, including the movement last year of a Chinese oil rig into that territory.
Pham and his wife, Hoang Bich Lien, have two children.
-Steve Straehley