Vatican City's Ambassador to the United States: Who Is Christophe Pierre?
Saturday, November 26, 2016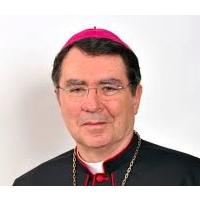 Christophe Pierre
Pope Francis appointed Archbishop Christophe Louis Yves Pierre to be nuncio, or ambassador, to the United States on April 12, 2016. It's the fourth such assignment for Pierre.
Pierre was born January 30, 1946, in Rennes, France, and grew up in Africa. Much of his childhood was spent in Madagascar, but he also lived in Malawi, Morocco and what is now Zimbabwe. Pierre entered the Seminary of Saint-Yves in his hometown of Rennes in 1963. After taking two years off in 1965 and 1966 to serve in the military, he was ordained in April 1970 and became an assistant priest in the diocese of Nanterre. Pierre also earned a master's in theology from Paris' Institute Catholique in 1971.
He left parish work in 1973 to attend Pontifical Ecclesiastical Academy in Rome, the Vatican's school for diplomats, and Pontifical Lateran University, where he earned a doctorate in canon law. He finished his education in 1977 and entered the diplomatic service. His first postings took him to New Zealand, Zimbabwe, Cuba, Brazil, and to Geneva as a permanent representative to the United Nations.
Pierre was named an archbishop in 1995 and was made nuncio to Haiti. He served there until 1999, when he took a similar post in Uganda. While there, he went to nearby Burundi in 2003 after the assassination of Michael Courtney, who had been the nuncio to that country. Pierre took charge of the Vatican mission in Burundi until Courtney's replacement was named. While in Uganda, Pierre spoke out against the government's campaign to encourage condom use to prevent the spread of AIDS.
Pierre was made nuncio in Mexico in 2007. He was known for helping to unite the country's bishops and establish better links between the church and its many followers there.
His appointment to Washington was made upon the mandatory (at age 75) retirement of Nuncio Carlo Vigano, who had blindsided Pope Francis by setting up a meeting between him and Kim Davis, the Kentucky county clerk who broke the law by refusing to issue marriage licenses to same-sex couples. Pierre is seen as a good fit for the job because his experience in Mexico is thought to be helpful, given the election of Donald Trump as U.S. president.
Pierre speaks French, English, Spanish, Italian and Portuguese.
-Steve Straehley
To Learn More:
Pope Appoints French-Born Archbishop Christophe Pierre as New Nuncio to the United States (by Gerald O'Connell, America—the National Catholic Review)
Why the U.S. Won the Lottery with the New Papal Envoy (by Jorge E. Traslosheros, Crux)
The Nuncio Cometh? (by Michael Sean Winters, National Catholic Reporter)