U.S. Ambassador to Ukraine: Who Is Marie Yovanovitch?
Sunday, September 11, 2016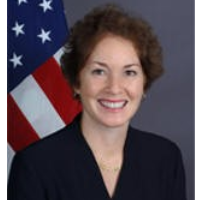 Marie Yovanovich
Marie Yovanovitch was sworn in August 18, 2016, as the United States' ambassador to Ukraine. It's the third such appointment for the career member of the Foreign Service.
Yovanovitch was born in 1958 in Montreal to Russian emigres and moved with her family to Connecticut when she was 3. She attended the Kent School, graduating in 1976, and went on to earn a B.A. in history and Russian studies from Princeton in 1980. In 2001, she earned an M.S. from the National War College.
Yovanovitch joined the Foreign Service in 1986. Her early assignments included postings in Ottawa, Moscow, London, and Mogadishu. But with her educational background, she began to focus on Russia and its neighbors. She was deputy director of the State Department's Russian desk from 1998 to 2000. The following year, she was sent to Kiev, Ukraine, as Deputy Chief of Mission in the embassy there.
She returned to Washington in 2004 as senior adviser to the Under Secretary of State for Political Affairs. Yovanovitch was named an ambassador for the first time the following year, when she took over the U.S. embassy in Kyrgyzstan, which served as a vital base in the U.S. war in Afghanistan.
In 2008, Yovanovitch was nominated to be ambassador to Armenia. She was confirmed by the Senate, but not before going through hard questioning on why she wouldn't use the term "genocide" to refer to the killing by Turkey of 1.5 million Armenians from 1915 to 1917. By 2011, she was back in Washington, first as Deputy Assistant Secretary and beginning in 2012 as principal Deputy Assistant Secretary in the Bureau of European and Eurasian Affairs. In 2013, she was named Deputy Commandant of the Eisenhower School at National Defense University and the following year was made Dean of the Foreign Service Institute's School of Language Studies.
Yovanovitch speaks Russian and French.
-Steve Straehley
To Learn More:
Marie Yovanovitch (Wikipedia)