U.S. Ambassador to the Federated States of Micronesia: Who Is Robert Annan Riley III?
Sunday, November 22, 2015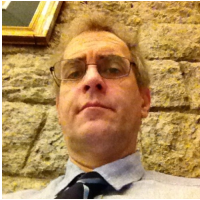 Robert A. Riley (photo: LinkedIn)
Robert A. Riley, who started representing the United States overseas as a Peace Corps volunteer, was nominated on November 9, 2015, by President Barack Obama to be Ambassador to the Federated States of Micronesia. If he's confirmed by the Senate, it will be his first such posting.
Riley is from Annapolis, Maryland, where his father had a practice as an obstetrician and gynecologist. Riley attended the Key School, a private institution there, where he played soccer. He graduated in 1973. He then went on to Yale University, where he earned a BA in English literature in 1979.
After graduation, Riley went into the Peace Corps, serving as a volunteer in Gabon. After his term was up, he stayed on as a volunteer leader from 1981 to 1983. Riley then moved into a paid position with the organization, becoming an administrative officer for Gabon and Mali in 1984, then in 1989 being named the chief administrative officer for the Africa region.
Riley moved over to the Foreign Service in 1993, returning to Africa—this time Malawi—as a financial management officer. He moved on to similar roles in Cote d'Ivoire in 1995 and Spain in 1998. In 2002 he began a stint at the embassy in Paris then in 2005 began a tour as senior financial management officer in Baghdad.
In 2006, Riley was made a management counselor, first at the embassy in Islamabad, Pakistan, then in Hanoi, Vietnam, the following year and in 2009 in Manila, Philippines. While stationed there, the embassy began work on an expansion of its office space. During the construction, unexploded ordnance from World War II was found on the construction site. Each time a piece was found, he told State magazine, "We thought that would be the last of it but, no, there was always more. . . . Our employees had worked there for more than 60 years and lived there for more than 50 years, unconscious of the potential danger."
In 2013, Riley was made management counselor at the embassy in Jakarta, Indonesia, where he worked when he was nominated as ambassador.
-Steve Straehley
To Learn More:
Bob Riley, Class of 1973 (The Key Review)