U.S. Ambassador to Sweden: Who Is Azita Raji?
Saturday, December 27, 2014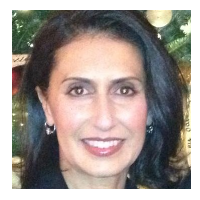 On October 23, 2014, President Barack Obama announced that he would nominate Azita Raji, a financial supporter of the president's, to be the next ambassador to Sweden.
Raji was born September 29, 1961, in Tehran, Iran. She went to high school in Lausanne, Switzerland, where she skied competitively and played chess. She came to the United States at age 17 to attend Barnard College at Columbia University, where she graduated in 1983 with a B.A. in French and architecture. Raji later returned to Columbia to study for an MBA in finance, which she earned in 1991. She became a U.S. citizen in January 1988.
Raji went to work in the financial industry, first at Drexel Burnham Lambert, which went into bankruptcy in 1990 as a result of its illegal acts involving junk bonds. She later worked for Solomon Brothers and ultimately JPMorgan Securities, where she was a vice president working with fixed-income investments. Raji is a chartered financial analyst.
She retired from the investment industry to focus on philanthropy and political fundraising. Before Obama ran for president in 2008, Raji hadn't been involved in politics. However, she became a big donor to Obama and to the Democratic National Committee and in 2012 was a top bundler, putting together more than $3 million toward the president's reelection effort and was the campaign's national vice-chair for finance.
Her efforts on Obama's behalf were rewarded with perks such as an invitation to the 2011 state dinner for Chinese President Hu Jintao and an appointment to the President's Commission on White House Fellowships and the board of the National Portrait Gallery of the Smithsonian Institution. Raji was also a member of The Bretton Woods Committee, an elite organization which supports international finance institutions such as the World Bank and the International Monetary Fund.
Raji's appointment to Stockholm initially stirred excitement in India and among the Indian-American community. Because her last name connotes royalty in Sanskrit-related languages, it was thought that she was of Indian heritage. The Indian media often writes glowingly of Indian-Americans appointed to U.S. government positions and Raji's nomination resulted in several such articles. But when it was announced that she'd been born in Tehran, Indian publications had to backtrack, although some still tried to discover whether she indeed was of Indian heritage. Although Raji has supported Iranian-American cultural projects, she has never corrected media accounts referring to her as Indian-American.
Raji, who lives in Belvedere, California, is married to Gary Syman, the former managing director of Goldman Sachs' San Francisco office. They have two daughters, Gaby and Elena. Raji speaks several languages including English, French and Farsi.
-Steve Straehley
To Learn More:
Azita Raji, the Likely Next U.S. Ambassador To Sweden Is Not Indian American. She Is Iranian American. But Does She Care? (by Sujeet Rajan, American Bazaar)