U.S. Ambassador to Somalia: Who Is Katherine Dhanani?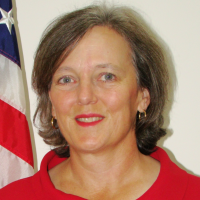 Katherine Simonds Dhanani was nominated February 24, 2015, to be the next U.S. ambassador to Somalia. If she's confirmed, the career Foreign Service officer would be the first ambassador to Somalia since the embassy was closed in 1991.
Dhanani studied economics in college, earning a B.A. from Kenyon College in 1981 and an M.A. in economics from the Massachusetts Institute of Technology in 1985.
Before joining the Foreign Service in 1990, Dhanani was an assistant city planner in Sacramento, California, and taught economics at Grinnell College in Iowa.
Dhanani's early assignments included staff assistant in the State Department's Bureau of Inter-American Affairs; consular officer at the embassy in Brazzaville, Republic of the Congo; and economic officer at the embassy in Georgetown, Guyana.
Beginning in 1996, Dhanani served in the Office of Mexican Affairs and then in 1998 was an economic officer, concentrating on energy and mining, in the embassy in Mexico City. She returned to Africa in 1999 as economic section chief in the embassy in Kinshasa, Democratic Republic of the Congo. Dhanani moved to the embassy in Lusaka, Zambia, in 2002 as political and economic section chief.
She moved up the ladder in 2005 when she became deputy chief of mission at the embassy in Libreville, Gabon, and then took a similar role in Harare, Zimbabwe from 2007 to 2010.
Dhanani then was appointed consul general in the U.S. consulate in Hyderabad, India. While there, she began a blog, "A Diplomat in the Deccan," in which she wrote about area issues of interest, as well as more personal topics. She was brought home in 2013 to be director of regional and security affairs in the State Department's Africa bureau and continues in that role as she awaits confirmation.
Dhanani and her husband, Azim, are both avid golfers. Perhaps with that in mind, they own a home in South Florida. Dhanani speaks French and Spanish.
If Dhanani is confirmed, she'll initially be stationed in Nairobi, Kenya, until a suitable secure facility is constructed in Somalia.
-Steve Straehley
To Learn More:
State Department Cables 2007-2010 (WikiLeaks)