U.S. Ambassador to Senegal: Who Is Tulinabo Salama Mushingi?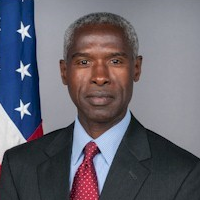 Tuli Mushingi
Tulinaho Salama Mushingi, a career member of the Foreign Service, was nominated on September 22, 2016, to serve as ambassador to Senegal. If he's confirmed by the Senate, it will be his second such posting.
Born in 1957, Mushingi earned a B.A. and an M.A. from the Institut Superieur Pedagogique in Bukavu, Democratic Republic of Congo, an M.A. at Howard University, and a Ph.D. in Linguistics at Georgetown University in 1989, with a dissertation entitled, "Vehicular Languages as Media of Instruction: The Case of Swahili in Zaire."
Mushingi served as a lecturer at Dartmouth from the early 1980s to early 1990s. He also worked as a language and cultural trainer for the Peace Corps before joining the Foreign Service in 1993. Early career assignments included service as a general services officer at the U.S. Embassy in Maputo, Mozambique, from 1994 to 1996; as a counseling and assignment officer in the State Department Bureau of Human Resources from 1999 to 2001; and as management officer at the Consulate General in Casablanca, Morocco, from 2001 to 2003.
Back in Washington, Mushingi served as supervisory general services officer in the Executive Office of the Secretary of State from 2003 to 2006. He then served two straight stints in Africa. From 2006 to 2009, he was counselor for management affairs at the embassy in Dar es Salaam, Tanzania, and chargé d'affaires ad interim, and from 2009 to 2011, he was chargé d'affaires and deputy chief of mission at the embassy in Addis Ababa, Ethiopia.
Beginning in 2011, Mushingi served as deputy executive secretary and executive director of the Executive Office of the Secretary of State. In 2013, he was named ambassador to Burkina Faso, becoming the first African-born naturalized U.S. citizen to serve as an ambassador on that continent. Mushingi's tenure in Burkina Faso was eventful, with longtime President Blaise Compaoré being forced out of office after making an attempt to gain an unconstitutional third term. Mushingi played a prominent role during that time and as an attempted coup was staged after Compaoré went into exile.
Mushingi is married to Rebecca (née Marshbanks) Mushingi. They have a daughter, Furaha, who is a Dartmouth graduate.
-Matt Bewig and Steve Straehley
To Learn More:
In Burkina Faso, a U.S. Ambassador Wins Over a Slice of Francophone West Africa (by Dulcie Leimbach, Pass Blue)