U.S. Ambassador to Russia: Who Is John Tefft?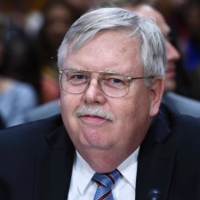 On July 31, 2014, the Senate confirmed the nomination of John Tefft to be the next ambassador to Russia. It is the fourth ambassadorial post for Tefft, a career member of the Foreign Service.
It's a job Tefft has been preparing for since childhood. His parents, Floyd and Mary Jane Tefft, encouraged their five children to learn a foreign language and sent them to summer school to do so. Tefft chose to learn Russian.
He was born in 1949 in Madison, Wisconsin, and graduated from Edgewood High School in 1967. Tefft moved to Milwaukee to attend college at Marquette, where he earned a B.A. in history in 1971. He also met his wife while at Marquette; he and Mariella Cellitti were married in January 1971. Tefft also joined the Army Reserve that year, serving until 1974.
Tefft joined the Foreign Service in 1972. His first overseas assignment, in 1974, was to the U.S. consulate in Jerusalem with another early posting in Budapest, Hungary. In the United States, he served as operations officer in the State Department operations center, a special assistant in the Washington office of the U.S. Permanent Representative to the United Nations and a political officer in the Office of United Nations Political Affairs.
From 1982 to 1983, Tefft served a fellowship in the office of then-Congressman Howard Wolpe (D-Michigan). Following that, Tefft was a political officer in the Office of Soviet Union Affairs, where he helped work on negotiations for the START I nuclear treaty.
Tefft was sent to Rome in 1986 as counselor for Political-Military Affairs at the embassy. He returned to Washington in 1989, first as deputy director of the Office of Soviet Union Affairs/Office of Commonwealth of Independent States and, beginning in 1992, as director of the Office of Northern European Affairs.
Tefft's first assignment to the U.S. Embassy in Moscow came in 1996, when he was deputy chief of mission. From November 1996 to September 1997, he served as chargé d'affaires in the absence of an ambassador. While he was running the embassy, Tefft and his wife were surprised one morning by a Russian Army deserter, who had broken into the embassy compound, and subsequently the Teffts' quarters. He was found naked in the shower.
In 2000, Tefft won his first ambassadorial post, to Lithuania, where much of his time was spent working on that country's admission to the North Atlantic Treaty Organization (NATO). He had returned to Washington to participate in talks between Lithuanian President Valdas Adamkus and President George W. Bush in September 2001 when the 9/11 attacks occurred. Although most air traffic was halted, Tefft and Adamkus were flown out of the country on a special flight to make their way back to Lithuania.
Beginning in 2003, Tefft served a stint as an international affairs advisor at the National War College. The following year, he was named a deputy assistant secretary of state for European Affairs.
Tefft was put in charge of another embassy in 2005, this time in Georgia. That country at the time had problems with breakaway republics in South Ossetia and Abkhazia. Tefft acted as a mediator in the Georgia-Abkhazia conflict. However, it wasn't all doom and gloom for Tefft while he was in Georgia. Before leaving, he appeared on a Georgian television talk show and sang Louis Armstrong's "What a Wonderful World."
In 2009, Tefft was moved to another former Soviet republic, this time Ukraine. He tried to facilitate that country's entrance into NATO, but this time was unsuccessful. He worked to gain the release of former Prime Minister Yulia Tymoshenko from prison, where she was being held on what some considered trumped-up charges since 2011. Tymoshenko was eventually freed in 2014.
Tefft retired as ambassador, and from the State Department, in 2013. He was named executive director of the RAND Business Leaders Forum, described by Lynnley Browning of Newsweek as "a clubby lobbying group" which considers strategic issues facing the United States, Russia and Europe. However he was called out of retirement less than a year later by President Barack Obama to serve in Moscow. Although Russia signed off on Tefft's nomination, he's not popular with the government there. An article in Pravda connected Tefft with the "color revolutions" (rose in Georgia, orange in Ukraine) that opposed Russian influence.
Tefft and his wife, who is a nurse and biostatistician, have two daughters, Christine and Cathleen, and one grandchild. He speaks Russian, French, Hebrew, Hungarian, Italian and Lithuanian.
-Steve Straehley
To Learn More:
Wisconsin Native And Savvy Diplomat Tefft Picked For Russia Ambassador (by Bill Glauber, Milwaukee Journal-Sentinel)
Madison Native John Tefft Named New U.S. Ambassador to Russia (by George Hesselberg, Wisconsin State Journal)
Ambassador Tefft Would Upset Russia, and That's the Point (by Lynnley Browning, Newsweek)
An Interview with John Tefft, U.S. Ambassador to Ukraine (The Politic)
State Department Cables (WikiLeaks)